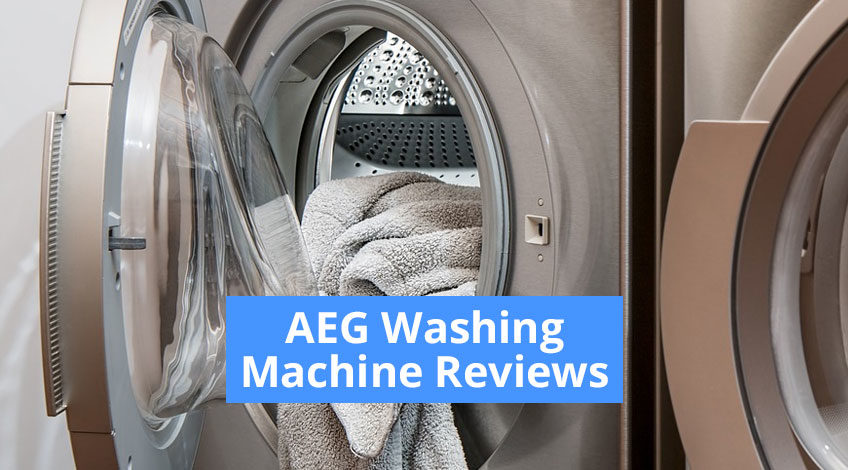 AEG Washing Machine Reviews
Thinking about buying an AEG washing machine, but aren't sure if you're making the right decision? Then this guide is for you!
Here we're going to go through some different AEG washing machine reviews and talk about the pros and cons of buying them.
We're also going to answer some of the most commonly asked questions around the brand and clear up some common misconceptions. 
Best Selling AEG Washing Machines
Sale
Bestseller No. 1
Bestseller No. 2
AEG L7FEE842S Washing Machine with Free Installation, Front Load, 8 kg/1400 rpm, 7000 Series, Inverter Motor, Steam Function, Quick Program, LCD Control Panel, XL Silver Door, Raised A+++
ProSense Function: Automatically weigh the charge to save time, water and energy. Avoid excessive washing of clothes and colors. Up to 8 kg washing
SoftPlus function: ensures that the fabric softener reaches the last fiber
ProSteam Technology: Use steam to reduce wrinkles or refresh your clothes without needing to wash
ProTex drum that protects and washes clothes more delicately
Motor Inverter: Greater Durability and Energy Efficiency. Lower Noise
Bestseller No. 3
Bestseller No. 4
AEG Washing Machine Timer
Genuine replacement timer for your AEG washing machine.
THIS IS A GENUINE AEG PRODUCT
Manufacturer's Code - 1246204000
Bestseller No. 5
Is AEG a good brand washing machine?
Yes, in fact, AEG washers are up there with the best when it comes to efficiency and overall ability. They're one of the most popular manufacturers in the UK and have built up a solid reputation for their durability and reliability. The 9000 series of washing machines from AEG have won several awards for their outstanding performance, including the 2018 product of the year!
Who makes AEG washing machines?
AEG washing machines are made by the Electrolux group (who own over 50 other brand names including Zanussi)
How long do AEG washing machines last?
Most washing machines made by AEG will come with a 5 year warranty as standard – meaning AEG expect their appliances to last no less than that. However, many people have reported that their AEG washing machine has lasted them around 10 years on average. 
Is AEG a German company?
Yes, AEG is a German company owned by Electrolux. The letters "AEG" stand for Allgemeine Elektricitäts-Gesellschaft, which is German for "General Electricity Company".
Where are AEG washing machines manufactured?
Although made famous for their "German engineering", many AEG appliances (including washing machines) aren't actually manufactured in Germany. A lot of AEG factories are located in Thailand, Italy, Eastern Europe, Portugal as well as Germany.
Are AEG washers quiet?
Most washing machines AEG produces are exceptionally quiet but it's not standard across the brand. Most of the washers that have been specifically designed to be quiet will advertise if they've been awarded the Quiet Mark award, so always look out for the logo.