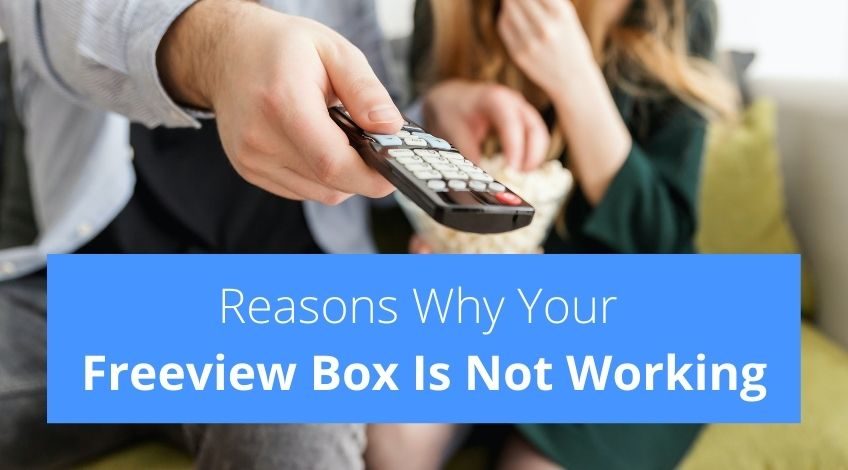 Freeview Box Not Working? This Might Be Why…
If your Freeview box isn't working it could be because of a number of issues. We've been exploring the problems and possible solutions to why the Freeview box isn't working. Some are so obvious you might be tempted to look elsewhere but we want to cover all bases. So let's get straight into it.
Please note: this article explains the common reasons why freeview boxes stop working and how to fix them. If you were looking for our guide to buying a new freeview box, click here.
Is The Freeview Box Connected And Switched On?
Sometimes it's the simple things that cause the most problems, is the Freeview box plugged in? If it is plugged in, is the socket turned on? This is the easiest fix and probably not what's wrong with your box at all. But there may be someone out there who is slapping their head right now.
Is The Freeview Box Frozen?
If the box is frozen, just turn it off and wait 30 seconds, then turn it back on again. This is sometimes all that's needed to fix the problem.
Is The Aerial Damaged?
If there have been high winds in your area, your aerial could be damaged. Go outside and look up at your aerial, is it complete? And is it facing in roughly the same direction as other aerials in the street? If the aerial is either damaged or facing the wrong direction, call in an aerial installation expert. Under no circumstances attempt to fix it yourself. Roofs are dangerous places for the unskilled.
Is The Aerial Coaxial Cable Frayed?
Back indoors, inspect the coaxial cable that connects the Freeview box to the aerial socket. Is it damaged, frayed or loose? Either replace the cable or in the case of loose fittings, just tighten, or replace the connectors.
Are There Problems With Freeview In Your Area?
Go online and check on the Freeview website, are there any planned shutdowns for works in your location? If there are they will also advise on when the works will be finished.
Transmitter Faults
On the Freeview website check if there are any faults with the transmitter that supplies your signal. They will also advise when the fault will be solved.
Atmospheric Or Weather Issues
Some types of weather and temperatures can affect the signal that comes to your home. If this is the case, maybe watch a DVD until conditions improve.
Trees Blocking Signals
In wet weather, trees can affect the signal reaching your aerial. Once the leaves get wet they can become fused together, this is enough to create a blockage that could affect your signal.
If All Else Fails, Try A Reset
If it's none of the above try turning it off and on again, and then select first time installation. This will often restore the Freeview box to its previously working condition much like a computer reboot.
Buy A New Box
Depending on how old your Freeview box is, it might be time to replace the box. There are only so many updates your old box can take, there will come a point when you will have to replace it.
Frequently Asked Questions
Why have I lost my Freeview channels?
The loss of Freeview channels are usually caused by set up problems or aerial faults. Inspect the aerial and coaxial cables and connections. Run a first installation setup.
What are the default codes for password on retune Freeview box?
If you haven't set a password, the default codes are usually 1234 or 0000.
Why has Freeview stopped responding?
If your Freeview box has stopped responding it could be a number of things. Some of the most common are: transmitter faults, weather and atmospheric interference, damaged aerial or a faulty Freeview box.