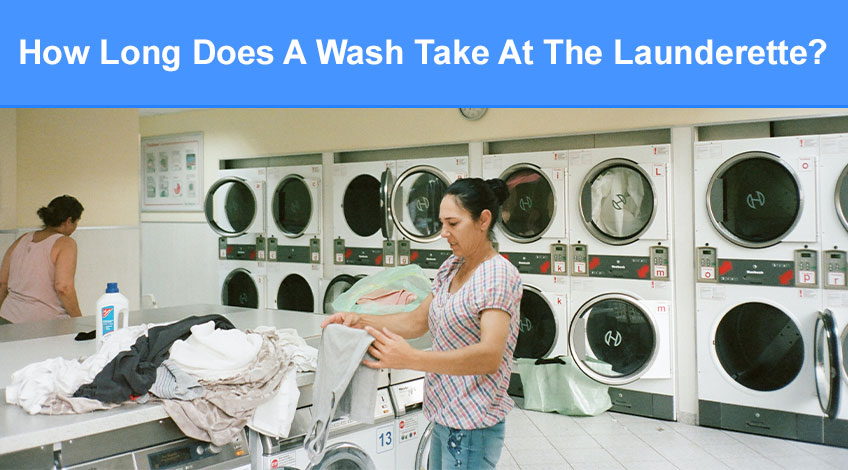 How Long Does A Wash Take At The Launderette?
If you need to get your laundry washed while you're staying at a B&B or hotel and you don't want to pay for a service wash, you can look for a local launderette and do your own laundry. If you've never used a launderette before it can be quite a daunting experience but don't worry.
In this article we'll run through the whole process of using a launderette from how much you can expect to pay, how long the wash cycle lasts, how long it takes to dry clothes and everything else in between.
How Long Will The Wash Cycle Last At A Launderette?
The average time it takes to wash a load of laundry at a launderette is somewhere in the region of 30 to 50 minutes. This depends on a few factors which are;
Which Wash Cycle You Select
Just like a domestic washing machine, those at the launderette have quick wash cycles or long wash cycles.
The Size Machine You Use
Most launderettes have three sizes when it comes to washing machines which range from small (10 kg capacity), medium (16 kg capacity) and large (22 kg capacity). Interestingly, the larger machines can take less time overall. This is because instead of having to wait for each smaller cycle to finish before loading in another load, you can do all of your laundry in one go.
As you can see from the above average timings, using a washing machine at the launderette takes less time than using your home appliance. This is because the launderette is basically a business and they want as many customers as they can each and every hour that they're open.
The washing machines in a launderette are designed to take more laundry and run faster programmes. But that doesn't mean they don't wash clothes properly. However all timings are subject to change depending on which launderette you use and the size of the washing machine you use too.
How Long Does A Dryer Take At The Launderette?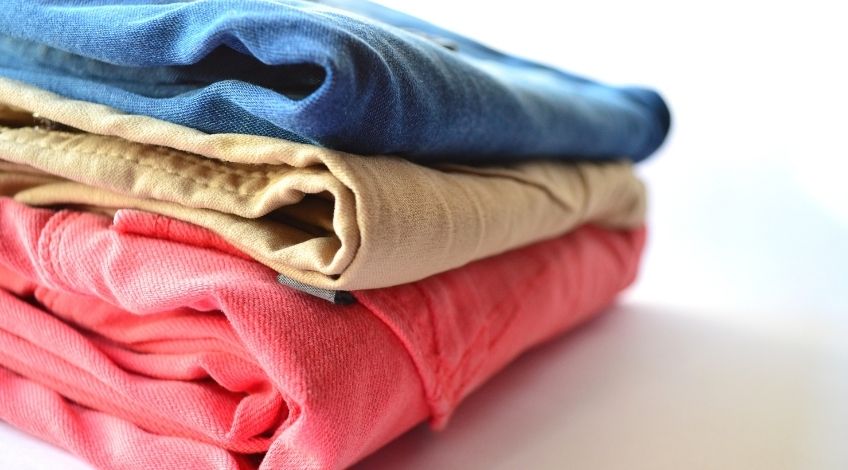 After washing your clothes you're most likely going to want to get them dry before taking them home again. You can expect it to take around 30 to 45 minutes to get your clothes dry in a dryer at the launderette.
However, some dryers at the launderette can get certain items dry in as little as 10 minutes.
Times are subject to change depending on what you're drying. Heavy duvets for example will take far longer to dry than thin cotton t-shirts.
It's worth remembering that tumble dryers at the launderette are usually much larger than domestic appliances. This means your regular wash load should dry properly during a 30 to 45 minute cycle in a larger machine where the clothes have room to tumble freely.
Just like at home, the more wet washing you put in the dryer, the longer it will take to fully dry.
How Much Does It Cost To Wash & Dry Laundry At A Launderette?
You're going to need to take some cash with you and in most launderettes the machines operate on £1 coins or 50p pieces. There are some launderettes that have contactless machines, but it's always best to take some coins along (just in case).
Washers
As all launderettes are individual businesses, it's difficult to give an accurate price for using their machines. However, as a rough guide, you can expect to pay around £4 to £7 for a standard size washing machine which will usually take around 35 to 40 minutes.
Dryers
There doesn't appear to be a set price for drying clothes at the laundrette. You should keep around £3 to £4 to dry a standard wash load.
Detergent
Most launderettes have detergent available from a coin operated wall dispenser. However, these are often not working and as many laundrettes don't have full time staff, you often can't get any detergent at the laundrette.
We would recommend taking your own for a few of reasons;
You're Sure Of Having It
As we just said, many launderettes don't have any detergent in stock.
It's Cheaper To Buy Your Own
Detergents are usually way cheaper at the local supermarket than those sold at the launderette.
Personal Preference
We all have personal preferences when it comes to detergents and often the detergents sold at launderettes are either a generic form or not the brand you usually use.
When Can You Use A Launderette?
You'll need to check the opening times at your local launderette, but it's worth remembering that the last wash is normally about an hour before closing time. 
Our advice would be to go during quiet periods to avoid having to wait too long to get a vacant machine. 
How To Wash & Dry Laundry In A Launderette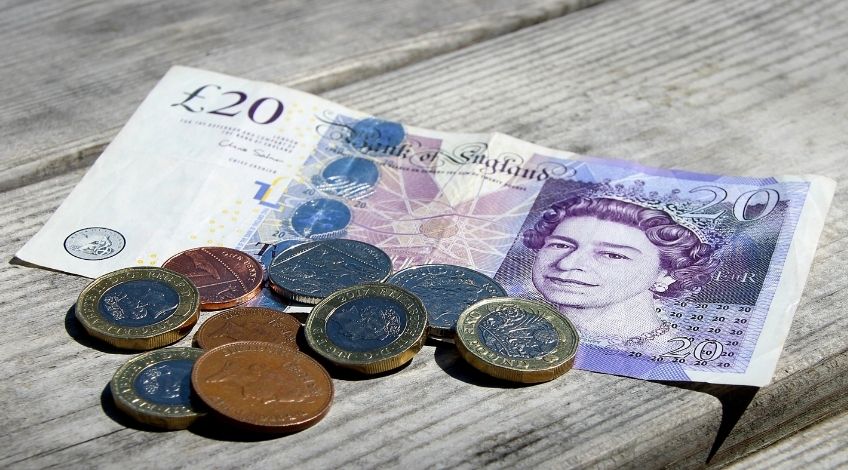 Here's a short list of all you'll need to take with you to the launderette.
Coins
Although some machines are contactless, most launderettes are still coin operated so you'll need to take some £1 and 50p coins with you.
Laundry
Gather all of your dirty laundry together. It's a good idea to sort it into similar fabrics and colours before you go to save time (and face) at the launderette.
Detergent
Whilst some launderettes sell detergent, they are often out of stock and it's usually more expensive than taking your own.
Fabric Softener
If you use fabric softener, it's always best to take your own.
Laundry Bag
You should ideally use a clean bag to bring home your clean laundry and not the same bag you took your dirty laundry to the launderette in. You can use a clean bin bag to line the bag you took the laundry in. It's not a good idea to put clean clothes in the bag the dirty laundry travelled in.
Operating The Washing Machine
When you get to the launderette, find an empty washing machine and load your laundry into the drum. You should try to use the smaller machines if possible as these often have shorter running times and are typically larger than domestic machines.
You will then need to add detergent to the machine, this should be placed in the compartments on top of the machine usually found under a plastic flap. 
The front two compartments are for powdered detergent. The left compartment is for prewash and the right is for the main wash. The rear two are for liquid with the left for fabric softener and the right for liquid detergent. If you're using pods these should be placed in the drum along with your clothes.
Then ensure the door to the machine is fully closed and select the appropriate wash cycle. The options are typically;
Hot Wash (60 C)
Heavy Soil Wash (60 C with extra pre wash and a longer wash cycle)
Warm Wash (40 C)
Delicate Wash (30 C)
Cold Wash (cold tap water temperature)
It's then time to pay, if you are using coins, they are generally put into the actual machine you're using. For contactless payments, there is often a pay point located on the wall by the front door. Just remember to select the correct number for the machine you're using.
Once the wash cycle has started you will have a 30 to 45 minute wait for your laundry to finish washing. When the buzzer sounds, you can remove your now clean clothes from the machine and transfer them to the dryer.
Operating The Dryer
Place your wet laundry into the drum of a vacant dryer and close the door. The small dryers typically take 14 kg and the large can take 21 kg. Don't overload the dryer as this can make drying times longer.
The costs of dryers vary but on average you get 9 minutes of drying time for £1 in the smaller dryer and 8 minutes for £1 in the larger dryers. Often contactless has a minimum of £2 which means your laundry will be drying for at least 16 to 18 minutes depending on the size dryer you're using.
Once the dryer has started, you can open the door at any time to check on the drying progress. As you open the door, the dryer will automatically stop and will restart once the door is closed again.
It is better to not keep opening the door as this lets heat escape and can mean longer drying times. It's also a good idea to pay for at least a 30 minute drying time and let it run continuously for 30 minutes instead of three 10 minute sessions.
As soon as your clothes are fully dry, remove them from the dryer and take your laundry home.
What's A Service Wash?
Many launderettes offer a service wash which is done by the attendant using the washing machines and tumble dryers on site. You pay for the service of somebody else doing the work for you.
Many service washes also iron and fold your clothes for you, but this service comes at a price. Having said that, considering the work entailed the prices are quite reasonable.
It will cost a minimum of £10 for a small load and increases according to the weight of the load. These prices are usually way cheaper than using a similar service at a hotel.
Tips On Using The Laundry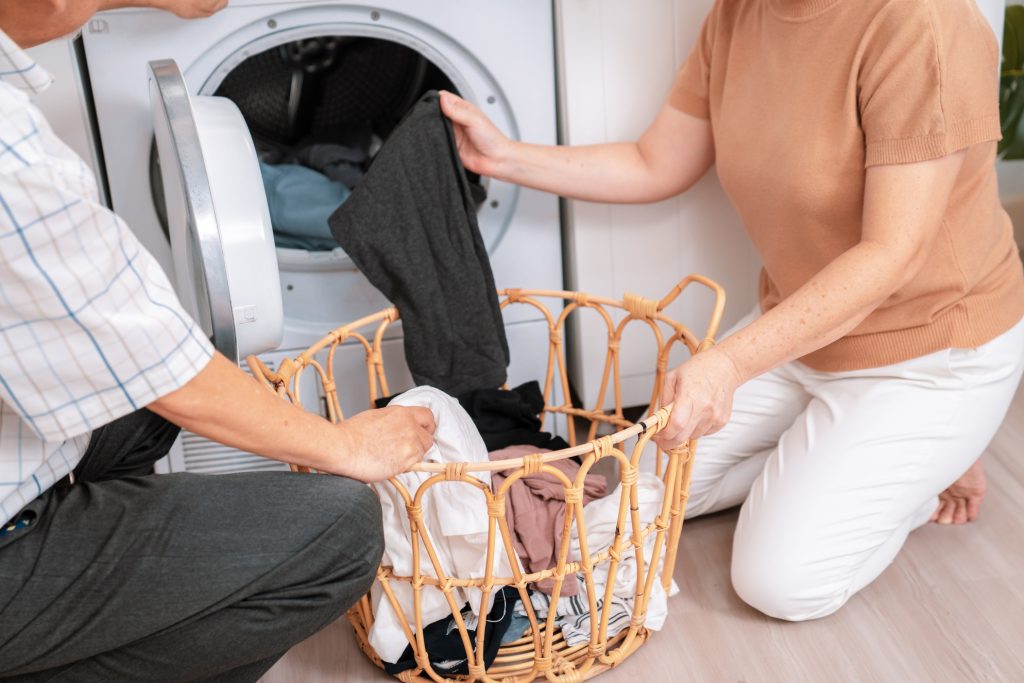 If you've never used a laundry before or it's been years since your last visit, we've compiled a few tips to make the whole experience easier and more enjoyable.
Don't Go To The Laundry At Peak Times
Launderettes have busy times and quiet times, if possible plan to visit the launderette at a quiet time to ensure you don't have to wait for a machine. Typically peak times at the launderette are between 4 to 8 pm.
Sort Your Laundry Before Going To The Launderette
If you sort your laundry into similar fabrics and similar colours at home, you will be better placed to use as many machines as necessary at the same time. This will save you being at the launderette for too long.
Take Your Own Detergent
Don't rely on buying detergent at the launderette, often they don't have any and if they do, it will be more expensive and you'll have a limited choice. If you or a family member has any allergies to certain detergents, it is far safer to use your regular detergent.
Aim To Visit When An Attendant Is Working
If you're not sure what you're doing at the launderette, try to visit when there's an attendant working. They will be able to advise you on how the various machines differ and which will suit you best.
They will also be able to point out the correct compartment for detergent etc, where and how to pay and roughly how long the laundry will take.
Use Mesh Bags
At home you probably use mesh bags to wash delicate items, at the launderette they can be used to prevent losing any items. Socks and underwear often seem to disintegrate in the washer.
Another good use for mesh bags at the launderette is to keep each family member's clothes separate. This can save time when it's time to sort out whose clothes are whose.
Use The Correct Size Machine
As we saw earlier, launderettes have different sized washing machines and tumble dryers. It always pays to use the correct size machine for the size wash load you have.
Using a larger machine for example could mean you only need to use one machine instead of two. This saves time and money.
SEE ALSO: Where Are The Best Places To Dry Clothes Inside?
Frequently Asked Questions
How long does a wash take at a laundrette in the UK?
The average time a wash takes at a launderette in the UK is anywhere between 30 to 40 minutes.
Can I leave my washing in the laundrette?
While you can leave your washing unattended at the launderette, we wouldn't recommend it. There have been cases of washing being stolen from unattended machines in launderettes.
Are launderette machines quicker?
The machines used in a launderette are far quicker than those used at home. This is because the more wash loads they can fit into a day, the more profit the company is making.