Where Are The Best Places To Dry Clothes Inside?
It can be challenging getting laundry dry outdoors in the UK even in summertime. But it's almost impossible during the cold, wet winter months. Which leads to the question: where are the best indoor places to dry clothes?
Experts agree that drying laundry indoors is not ideal because of the risk of health issues like respiratory problems caused by mould and mildew spores. However, you have to get your laundry dry somewhere during winter months.
Plus many people don't have access to outdoor spaces even when the weather is suitable for drying laundry. This leaves you with two possible choices, using a tumble dryer or a trip to the launderette.
Unfortunately, not everyone has the space or budget for a tumble dryer or the time to take regular trips to the launderette. Which means drying clothes indoors is your only option.
Keep reading to find out the best places to dry laundry indoors and a few more hints and tips along the way.
Where Are The Best Places To Dry Washing Indoors?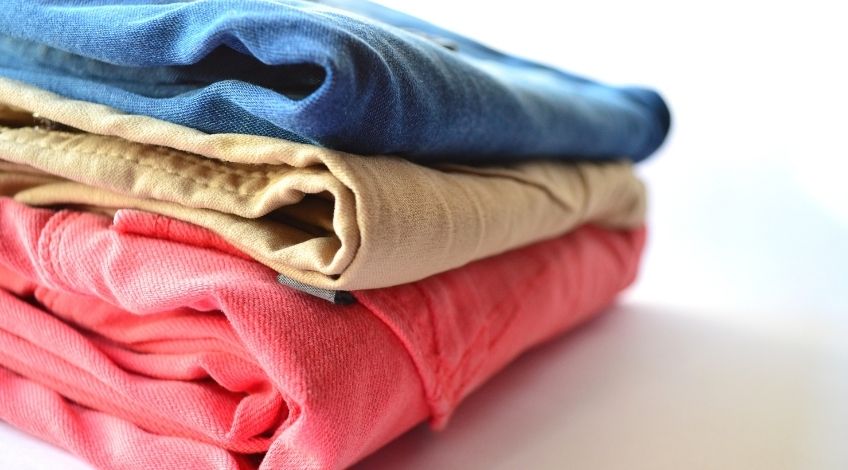 You should try to avoid drying laundry in areas where you spend most of your time. This includes living rooms and bedrooms. Additionally damp bathrooms and kitchens are not ideal either.
This leaves a garage, spare rooms or second bedrooms or if all else fails, a hallway is better than nowhere. Of course, if you're lucky enough to have a laundry room this is the ideal room for drying clothes.
What Should You Use To Dry Clothes On Indoors?
You should set up a drying rack or clothes airer in a room that doesn't get used too often and ensure there is adequate ventilation. Crack the window open just enough to allow excess moisture to escape.
You should also ensure the door to the room is kept shut to save too much heat escaping and keep any damp air contained.
If your living space is small and you don't have any spare rooms, you should set your drying rack or airer up close to a heat source like a radiator. A good idea is to set up a dehumidifier in the same room to remove excess moisture and reduce drying times as well.
You should never place wet items directly on the radiator as this will most likely cause issues associated with dampness. These include mould and mildew growth.
You can get drying racks that are fixed to the ceiling to free up floor space and can be removed when not in use. The same goes for a clothes rack or airer, these can also be stored away when not in use.
Tips On Speeding Up Drying Times Indoors
It's not ideal having wet laundry all over your living space so the sooner it is dry the better. Below are a few tips to reduce the drying time of your laundry indoors.
Use The Spin Cycle
Most wash programmes finish on a spin cycle, but sometimes the laundry still seems exceptionally wet after the programme has finished. It doesn't hurt to give your laundry an extra spin to remove even more moisture.
Wash Smaller Loads
By washing smaller loads you can spread each item out more on the dryer rack. This will allow more warm air to circulate around each item and get them dry faster.
Position Drying Clothes Close to A Radiator and/ Or Window
Innotic Airer Clothes Drying Rack 4 Tier Foldable Rolling Stainless Laundry Dryer Hanger with Casters for Indoor Outdoor, Grey
4 TIER CLOTHES DRYING AREA: 6 retractable trays and 2 side wings for airing towels, socks, shirts, sweaters, hats, coat, suits, dresses, shoes etc. Each airer can be folded down to conserve space, you can dry clothes on multiple rails, 7 hooks on 2 side wings for additional hanging drying.
PREMIUM MATERIAL: Innotic clothes drying rack is made of high quality stainless steel and durable plastic, strong load bearing capacity and stability.
By placing the clothes airer or drying rack close to a radiator and/or a window you can ensure that the clothes are exposed to heat and air to allow them to dry faster.
Use A Dehumidifier
HUMSURE Dehumidifier 16L, Dehumidifiers for Home with Digital Humidity Display, 24 Hour Timer, Auto Defrost, Laundry Drying, Continuous Drainage Ideal for Damp Flats, Apartments
【𝗘𝗳𝗳𝗶𝗰𝗶𝗲𝗻𝘁 𝗗𝗲𝗵𝘂𝗺𝗶𝗱𝗶𝗳𝗶𝗰𝗮𝘁𝗶𝗼𝗻】Our dehumidifiers for home damp are able to remove up to 16L (under 95°F, 90%RH) of moisture per day and adjust humidity from 40% to 80%. This dehumidifier for bedroom is ideal to dry a damp room up to 1500 - 2000 sq ft. Dehumidifiers home perfect for homes, basements, offices, bedrooms, garages, laundry rooms, cellars and other places. The dehumidifiers for drying clothes reaches its optimum performance at room temperatures of 5 - 35 °C.
【𝗜𝗻𝘁𝗲𝗹𝗹𝗶𝗴𝗲𝗻𝘁 𝗛𝘂𝗺𝗶𝗱𝗶𝘁𝘆 𝗦𝗲𝗻𝘀𝗼𝗿】This dehumidifiers for home with digital display can provide convenient and accurate humidity readings. Set your desired humidity level, the dehumidifiers for home will automatically switch on and off by sensing the ambient humidity and comparing it with the humidity value you set, dehumidifier with 24 hours timer you can preset automatic switching time, which bathroom dehumidifier is not only convenient but also reduces energy consumption.
Dehumidifiers work by removing excess moisture from the air. This allows the clothes to dry faster because the humidity levels in the room have decreased.
Get A Heated Drying Rack
Sale
Using a heated drying rack takes up no more space than a regular drying rack. But it will get your laundry dryer much faster. Many come with covers to contain the heat and moisture which is great for reducing the risks of dampness.
SEE ALSO: Is It Better To Dry Clothes Inside Out? (yes! here's why)
Frequently Asked Questions
Where is the best place to dry clothes in the house?
The best place to dry clothes in the house is in a well ventilated room. Plus you should not try to dry clothes in a room that you spend lots of time in like the living room or bedroom for example.
Is it OK to dry clothes indoors?
Whilst it's not ideal to dry clothes indoors, sometimes you have no choice. Problems can arise through moisture from damp washing causing mould and mildew indoors which can lead to health issues like respiratory problems and asthma.
How do you dry clothes indoors without it smelling?
The best way to dry clothes indoors without causing it to smell is to keep the room where the clothes are drying well ventilated, use a dehumidifier to remove excess moisture and try to invest in a heated drying rack.