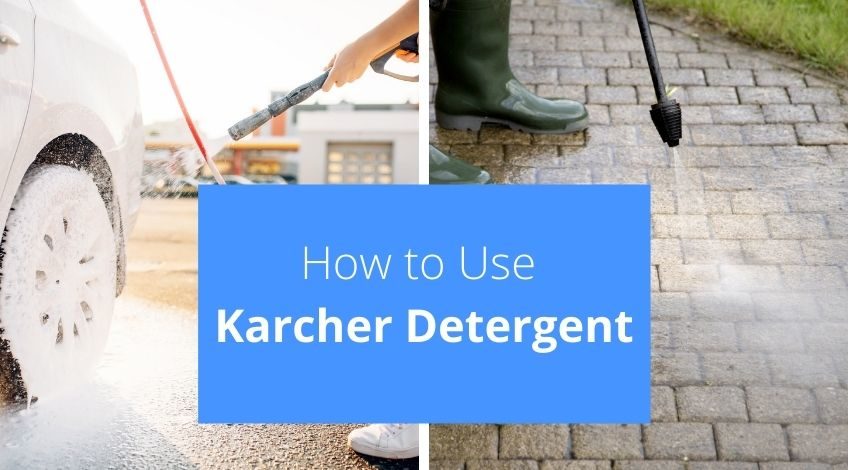 How To Use Karcher Pressure Washer Detergent
Owning a Karcher pressure washer is just the beginning, now the fun can really start. It's time to pressure wash everything in sight. Using a pressure washer is fun, it also makes washing patios, drives, cars, decking, boats and many more a simple task. To make the job even easier the experts at Karcher have developed different detergents for different cleaning situations.
They have devised detergents specifically for cars, wood, stone, plastics, glass, wheels, in fact, they've got virtually everything covered. Even wheel rims, skylights and garden furniture can get the Karcher detergent treatment.
How To Use Detergent In A Karcher Pressure Washer
This sounds like we're trying to teach an old dog new tricks, but it's more involved than you might think. That's because different machines work in different ways, so how you use detergent depends on your model.  Karcher's latest machines have what they call the "plug and clean" system. The preloaded bottle of detergent is inserted into the machine and it's ready to use.
Other models have an on-board solution bottle at the back of the machine that has to be refilled with detergent. Some models have a pull-out suction tube that is placed in the bottle of detergent while turning the lance setting to "mix" and allowing the detergent to run through the pressure washer.
There are separate wash brushes that feed the detergent through on to the surface directly placing detergent exactly where it's needed.
Why Use Karcher Detergent In Your Pressure Washer?
These detergents have been specifically developed uniquely for the surfaces they are intended to clean. Using material-specific detergents ensures the integrity of the surface, and saves water by dealing directly with the root cause of the stains. The Karcher range of detergents are made from 100% renewable raw materials and the container is made from more than 96% plant-based plastic.
So Karcher detergents are type-specific, in that they are designed to work on specific surfaces. They are environmentally friendly, they save water. They save energy and they save you time and effort.
Sale
Bestseller No. 1
Bestseller No. 2
Karcher Universal Car Garden Patio Cleaner Pressure Washer Detergent K2 - K7 1 Litre x 2
2 x Original Kärcher 1L bottle universal cleaning solution for all types of outdoor applications including your car, bike, driveway, patio, walls, stonework, brickwork, ceramics, swimming pool, roofing, BBQ's and many more outdoor applications. Connect directly to your pressure washer or pre-fill for greater manouevrability.
Suitable to fit the following models: Karcher K2, K3, K4, K5, 57 K2 Compact K2 Compact Car & Home K2 Compact Home K2 Home K2 Premium Home K4 K4 Home K4 Premium Ecologic Home K4 Silent HomeK4 Compact K4 Compact Home K4 Full Control K4 Full Control Home K4 Premium Full Control Home K5 Full Control Home K5 Premium Full Control Home K5 Car & Home K5 Compact Home K5 Premium Ecologic Home K7 Premium Full Control Home K7 Premium Ecologic Home
Bestseller No. 3
What Are The Detergents Made By Karcher Pressure Washers?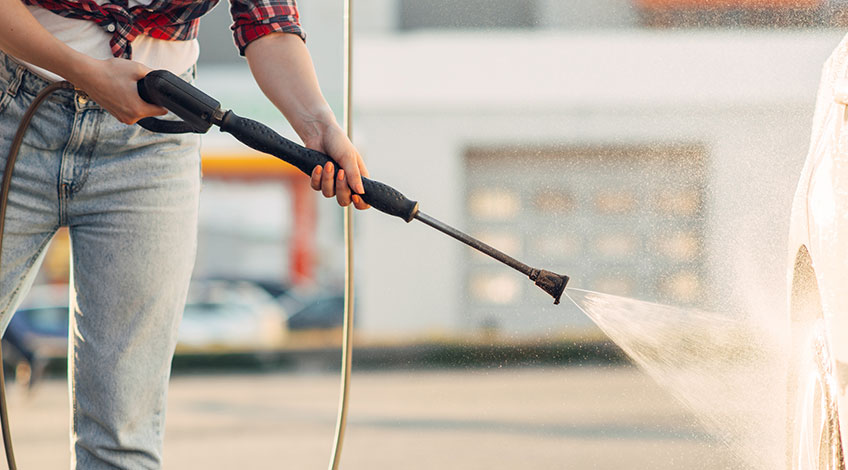 As we said earlier, Karcher has developed detergents for many different surfaces and applications. Let's take a closer look at some of these products.
Karcher Wood Cleaner – Is designed to clean all water-resistant wooden surfaces including wooden terraces, floors and garden furniture. It dissolves grease, oil and mineral stains, removes soot and algae, without damaging the wood. You can also use this manually-without running it through the pressure washer, which is handy for small areas and stubborn stains. Also contains a UV protector.
Karcher Car Shampoo – This gentle, mild alkaline, cleaning agent is particularly good for cleaning cars, motorbikes and boats without damaging the paintwork. Also removes the need for manual polishing.
Karcher Stone and Paving Cleaner – This cleaner is effective on grease, oil, algae, emission stains, dust and rust. And can be used safely on stone surfaces, walls and aluminium facades.
Karcher Plastic Cleaner – this powerful yet gentle cleaner can be used on all sensitive plastic surfaces including garden furniture, garden tools, plastic window frames and other plastic surfaces. Can also be used manually on small areas and stubborn stains.
Karcher Universal Cleaner – This one product does it all. A general cleaner that can be used on many surfaces in the home, garden and cars. Will remove mineral stains, oil, dirt, and grease from all waterproof surfaces. 
Karcher Patio and Deck Cleaner Concentrate – This highly concentrated cleaner can be used manually as well and is particularly good for removing mineral stains, rust, oil, grease, and emission stains. Applications include metal, glass, wooden floors, stone floors and balconies.
Karcher Ultra Foam Cleaner – A very useful extra foam booster for cleaning cars, motorbikes, boats and caravans. 
Before purchasing any of the above detergents, be sure to check that your Karcher pressure washer is compatible with the use of them. Not all machines have the capabilities necessary for some detergents.
Karcher Hand-Held Spray Cleaners
As well as their pressure washer detergents, Karcher also produce handy spray bottle cleaners these are easy to use without getting the pressure washer out.  Some of the spray products available are:
Karcher Glass Cleaner Gel – This is useful for cleaning all glass surfaces but particularly useful for vertical glass like windscreens, mirrors, roof windows, and plate glass windows. As it's a gel it doesn't run or drip, and it's effective against stubborn stains like grease fingerprints, emissions, and insects.
Karcher Wheel Cleaner Gel – As the name implies, this is perfect for cleaning car wheels. It removes snow and slush deposits, winter salt deposits, tyre wear and brake dust. After application, just wait until the gel changes colour from white to red and remove.
Karcher Insect Remover – This spray is suitable for use on plastics, chrome, metals and painted surfaces. Just spray and remove insects instantly.
Karcher Rim Cleaner – For effective removal of winter salt deposits, snow and slush deposits, brake dust and tyre wear from wheel rims. Just spray and wait until the colour changes and it's ready to remove.
Which Karcher Detergent Is Best Overall?
In our opinion, if you only buy one Karcher pressure washer detergent it should be the universal cleaner. This one product will clean many surfaces and is compatible with most Karcher pressure washer models. It has a nice, fresh scent, is gentle and non-corrosive and can be used manually too.
If you plan on cleaning your car with your pressure washer we recommend you use the Karcher car shampoo. It is soft on paintwork, dries quickly to prevent streaking, and has an ultra-gloss finish for a brilliant shine.
The Karcher wood cleaner is a great choice for water-resistant wood and sensitive wood. It is powerful, gentle and protects the wood from harmful UV rays.
Karcher Plug 'N' Clean System
For Karcher pressure washers that are able to use the plug 'n' clean system, this is the easiest way to load and administer Karcher detergents. You just remove the lid from the bottle, and the inner stopper and plug it into the Karcher pressure washer pop the bottle in the onboard holder and away you go.
Frequently Asked Questions
Do you dilute pressure washer detergent?
Most detergents need to be diluted 20 to 1 make sure to do this outside of the soap tank before adding to the pressure washer tank. There are exceptions like Karcher's plug 'n ' clean systems.
Can you use any detergent in a Karcher pressure washer?
You can use other brands of detergents in a Karcher pressure washer but be sure not use any that are too thick as they might damage the pump. Also never use any bleach products in a pressure washer.
Can I use pressure washer without detergent?
You can use a pressure washer without detergent, but it will not clean as effectively or remove germs or bacteria.
Why won't my pressure washer pull soap?
If your pressure washer is not pulling soap, it's probably caused by a clog in the detergent siphon tube. If the siphon tube is clear, the problem is probably a faulty chemical injection kit, which will need replacing.