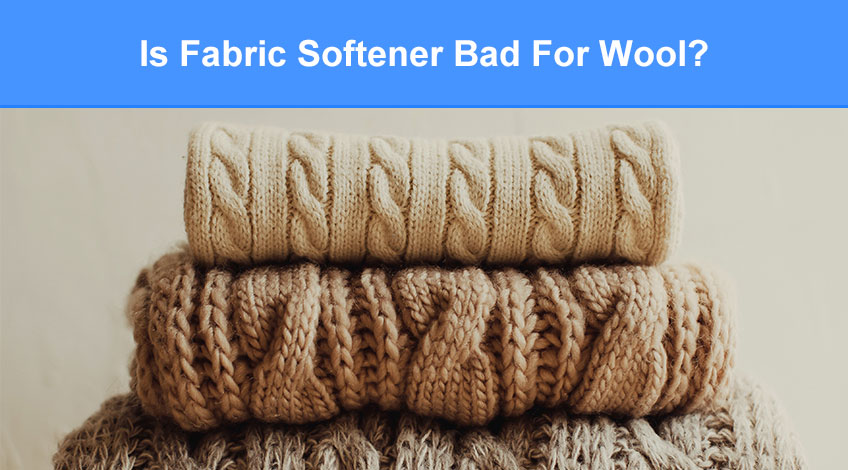 Is Fabric Softener Bad For Wool?
One of the first rules of washing clothes is never use fabric softener on woollens. There are several reasons for this which we'll get into further on in this article. But if you only take one thing from this article it's that fabric softener is bad for wool.
You probably chose your woollen garments because of the many benefits associated with wool. Such as its natural insulating properties, its durability and how comfortable it feels to wear woollen clothes. Which is why it is so important to look after them and not use fabric softener.
Why Is Fabric Softener Bad For Woollen Clothes?
Fabric softeners contain cationic surfactants which are often made from quaternary ammonium compounds (or quats). These are primarily used to reduce static in clothes by coating the fibres which also makes the fabrics softer.
The problems arise after a few washes using fabric softeners because these coatings become so thick that the fibres can no longer absorb water.
Wool naturally has the ability to both absorb moisture and repel splashes. Which means woollen clothes can absorb sweat and wick it away from the skin.
This is due to the surface structure of wool fibres. Once those fibres get coated in the chemicals present in fabric softeners, they lose these natural abilities. This is made worse by the way the cationic surfactants form layer upon layer which becomes increasingly difficult to wash out.
Why Is Fabric Softener Considered So Bad In General?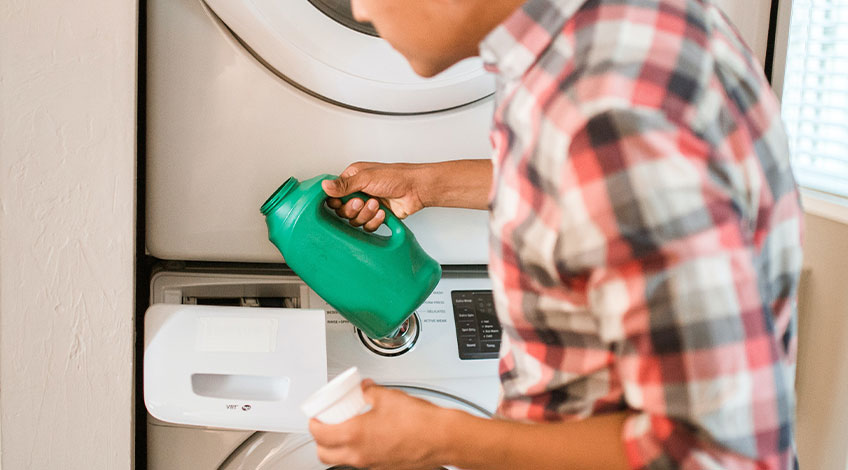 Fabric softener is made from a variety of chemical compounds, some of which can be hazardous to health and the environment. Which is why many experts have been giving fabric softeners such a bad press.
They include some pretty nasty chemicals including;
Benzyl Acetate
There have been some links between benzyl acetate and pancreatic cancer.
Hexylene Glycol
This has been linked with skin allergies, eye irritations and breathing problems with hexylene glycol as one of the main irritants associated with fabric softeners.
Benzyl Alcohol
There are links with  many respiratory problems including coughs, breathing issues and asthma.
Glutaraldehyde
Also known as glutaral, this chemical is said to have been the cause of many skin allergies as well as asthma.
Ethanol
Ethanol has been linked with disorders affecting the central nervous system.
Then there's those cationic surfactants or quats which have been linked with anaphylactic shock, respiratory problems, allergic skin reactions and possible reproductive issues.
Sadly it doesn't end there, fabric softeners are also bad for pets and animal life in general. Particularly aquatic life which is a major problem because the residue from our washing machines is eventually pumped out into our rivers and oceans.
As many of these chemicals don't break down, because they are non-biodegradable, they can linger in our waterways for many years and literally destroy whole ecosystems. They damage all aquatic life including fish, invertebrates, plants and algae.
Also many items of clothes, in particular baby clothes, are treated with a flame retardant which is rendered useless by the fabric softeners coating the fabric.
Are There Any Wool Safe Alternatives To Fabric Softeners?
There are several natural fabric softeners that can safely be used on wool items. They include;
Bicarbonate Of Soda
Sale
Grow Chem Baking Soda, Sodium Bicarbonate (1KG Bucket) UK MADE Pure Baking Soda for Cleaning, Baking, Bath Bombs, Odours and Teeth
ECO-FRIENDLY: Sodium Bicarbonate / Baking Soda is one of the top eco-friendly , safe and inexpensive cleaning, baking and household products available.
CLEANING: Baking Soda is particularly useful in food preparation, cleaning surfaces, ovens, grills, microwaves and fridges whilst also deodorising and freshening without leaving any harsh chemical smells.
Adding ½ a cup of bicarbonate of soda to a warm wash will soften woollen garments.
White Vinegar For Wool
Sale
Adding ½ a cup of white vinegar to the rinse cycle when washing woollen garments helps to remove unwanted odours and helps the wool to feel less scratchy and generally softer.
How To Wash Woollen Items
The first thing you'll need to do is check the wash care label to see if your woollen items can be machine washed. If they can, you should select the wool setting. 
Or if your machine doesn't have a wool setting, you should select the delicate setting. You should also select a cold water wash or at least no higher than 40 degrees C.
You need to select the delicate or wool setting because these programmes are less violent in their agitation. This is because too much heat or agitation is likely to cause shrinkage or felting in woollen garments.
You should always use a mild, gentle detergent that is specifically designed for washing woollen garments. Something like;
Woolite
Sale
This product is specifically designed for use with woollen and other delicate items.
The Lab Co. Cashmere and Wool Laundry Wash
Sale
This product has been specially formulated to clean, nourish and rejuvenate woollen items.
Cashmere and Wool Eco Wash by Clothes Doctor Laundry
Cashmere and Wool Eco Wash by Clothes Doctor Laundry Detergent Liquid Gentle Washing Machine and Hand Wash Safe Nourish and Protect Your Knitwear and Delicate Fabrics 500ml 32 Washes
Cashmere and wool are delicate natural fabrics that deserve special treatment (as we all do from time to time). Our No.3 Eco Wash for Cashmere and Wool is a gentle pH neutral formula that extends the life of your knitwear through cleaning, renewing and softening. It is lightly scented with Himalayan cedarwood and orange oil, to provide natural moth defence. Use this treatment in a hand wash or add to a delicate machine cycle.
This luxurious liquid is the perfect alternative to dry cleaning, which is damaging to our clothes and planet. It is also packaged in 100% aluminium with a compostable label, making it infinitely recyclable in an efficient closed-loop system. Perfect alternative to Dry Cleaning: this luxurious liquid provides the perfect results of dry cleaning without damaging your clothes or the environment like traditional methods do.
This product is pH neutral that helps prolong the life of your woollen garments as well as softening them and protecting against clothes moths.
Once the item has been washed and the machine has finished, remove the woollen items and shake them before reshaping them. 
Then dry them flat by laying them on a clothes airer or rack. You should never use a tumble dryer to dry woollen garments unless advised to by the care label and only then on a delicate setting at low temperatures.
It's also not a good idea to dry woollen garments in direct sunlight as too much heat, high agitation and direct sunlight can damage and weaken the fibres of natural wool items.
Once fully dry they should be gently folded or kept flat on shelves rather than on hangers which can alter the shape and stretch the items.
Please Note: You should always separate your light and dark coloured woollen garments to prevent colour bleed. Also woollen garments should not be washed as often as other fabrics. You should spot clean small stains and air woollen garments to remove any smells in  between washes.
Hand Washing Woollen Items
Many woollen items will be hand wash only, the symbol in the care label for hand wash is a bucket with a hand in it. To hand wash your woollen items all you need to do is turn the garments inside out then hand wash in lukewarm water at around 30 degrees C. Using a mild gentle detergent.
Leave the garments to soak for around 10 to 15 minutes and then rinse thoroughly in lukewarm water followed by another cold water rinse until the water runs clear.
Different Types Of Wool Have Different Washing Instructions
Alpaca wool
You should only ever hand wash alpaca wool in cold water.
Cashmere
Cashmere should be hand washed in cold water or if the wash care label advises that the garment can be machine washed, you should place it in a mesh bag first. Then wash in cold water.
Merino Wool
Merino should be hand washed in lukewarm water and gentle detergent.
Pashmina
Pashmina is made from cashmere wool and should be washed in the same way as cashmere.
The one thing all types of woollen garments have in common is that fabric softener is bad for all of them and should never be used.
SEE ALSO:
Frequently Asked Questions
Will fabric softener damage wool?
Fabric softener will prevent the wool's natural ability to breath or regulate temperature or moisture because the chemicals in fabric softener coat the woollen fibres with a waterproof chemical.
Can you use fabric softener on knitwear?
You should never use fabric softeners on knitwear because these expensive high quality garments can be damaged by the harsh chemicals used to make fabric softeners.
Should you use softener on sweaters?
You should never use fabric softeners on sweaters because the chemicals used to make fabric softeners coat the fibres of the sweaters and actually makes them harder over time. This is because the chemicals build up and prevent water from soaking into the fabric which means the sweaters don't get clean.