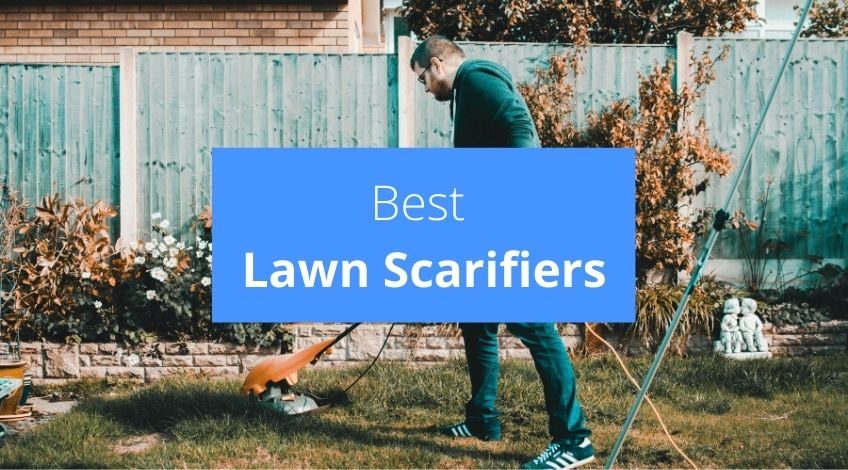 Best Lawn Scarifiers 2022
To achieve that lush, green carpet effect on your lawn takes a lot of care and attention. In order to create a lawn fit for a bowling green your grass needs to be cut regularly, fed regularly and watered regularly. But to turn it into a tip-top lawn you need a secret weapon, and that's where lawn scarifier comes in.
Scarifiers work by removing any dead moss, old grass clippings, and any other debris from the lawn whilst also penetrating the soil at the same time. This allows the grass access to more oxygen, more water and more nutrients. New grass growth will fill the spaces where the moss and other debris that makes up the thatch were lying.
There are a great deal of lawn scarifiers on the market nowadays which can make choosing one, a bit of a headache. But that also works in our favour, because with so many makes, models and designs to choose from there will definitely be one that suits your individual purpose.
Best Selling Lawn Scarifiers UK
Bestseller No. 1
VonHaus 2 in 1 Electric Lawn Scarifier and Rake 1500W – Garden Aerator with 28L Collection Box, 10m Cable, 32cm Working Width, 4 Height Settings, 2 Interchangeable Rollers, Safety Switch
KEEPS YOUR GARDEN TIDY – Easy, convenient and efficient, this powerful 1500W 2 in 1 scarifier offers a quick and simple way to maintain a healthy, tidy lawn. Helping you remove dead grass, moss and thatch all the way down to the roots.
TOUGH ENOUGH FOR THE JOB – Made from durable plastic with a metal frame and distinctive grey, black and orange colourways, this handy tool effortlessly removes thatch, moss, leaves and other debris from your lawn.
TWO TOOLS IN ONE – The dual purpose drum features easily interchangeable aerating and scarifying rollers as well as a collection box, height adjustable handle and long 10m power lead. Some simple assembly required.
SPECIFICATIONS – Packed with features: 4 Cutting Depths, 32cm Working Width, 28l Collection Bag, 9.9kg, 98dB Guaranteed Sound Level.
MANUFACTURER TWO YEAR WARRANTY INCLUDED
Bestseller No. 2
Hyundai 1500W Electric Lawn Scarifier / Aerator / Lawn Rake, 230V with 3 Year Warranty
Get a healthy green lawn: Revitalise your dull, spongy, patchy grass
Fitted with 20 hardened steel blades: Designed to remove moss, thatch, and dead grass right down to the roots
360mm working width: Perfect for small to medium lawns. Powerful 1500W motor: Gets the job done quickly
Weighs just 11.4kg: Comfortable to push around the garden. 5 adjustable scarifying heights: Get the perfect finish on your lawn
Peace of mind: 3 year Hyundai home-use warranty* / 1 year commercial warranty*
Bestseller No. 3
Sale
Bestseller No. 4
VonHaus Lawn Scarifier, Grass Rake, Aerator 1800W – Electric, 10m Cable, 55L Collection Box, 5 Depth Settings, 38cm Working Width, 2 Interchangeable Rollers, Folding Design – 2 Year Warranty
2 IN 1 – With interchangeable scarifier drums included, this multifunctional tool with an 1800W motor lifts debris from your lawn and perforates the soil to promote healthy grass growth.
5 DEPTH SETTINGS – 38cm working width makes easy work of small and mid-sized lawns, while the manual lever lets you select between 5 operational heights (-12/-9/-6/-3/+6mm) for all-season lawn maintenance.
55L CAPACITY COLLECTION BOX – No need for manual raking - simply attach the 55L collection box to continuously gather lawn debris. A thermal cut-out and two-stage safety start ensure safe operation.
COMPACT FOR STORAGE – Folding soft-grip handle and removable grass box for convenient storage with a built-in carry handle for easy transportation. Dimensions: (L) 60 x (D) 120 x (H) 99cm. Cable length: 10m.
MANUFACTURER 2 YEAR WARRANTY INCLUDED
Bestseller No. 5
Are Lawn Scarifiers And Lawn Rakes The Same?
Lawn rakes and lawn scarifiers do similar jobs and it is understandable why some people would confuse the 2. They both remove "thatch" from the lawn which allows the grass to grow healthier and absorb as many nutrients as are available. Where they differ is a scarifier cuts holes into the soil to allow more oxygen to reach the grass roots.
What Are The Benefits Of A Lawn Scarifier?
Using a scarifier on your lawn will give you healthier looking grass in a short time. There are many benefits to using a scarifier, the main benefits are:
Removes Thatch
Thatch is the name given to all of that dead moss, old grass clippings and other general detritus that forms on your lawn. A lawn scarifier removes the thatch and makes the lawn look more like a lawn.
Reduces The Risk Of Future Moss Growth
By removing the old, dead matter from the lawn you create conditions that are not that favourable for moss growth. Helping to prevent more moss from growing.
Encourages Grass Growth By Pruning The Roots
By pruning the grass roots, you allow more room for grass to grow, which encourages healthy grass leaves and a stroger root system.
Gives Water Easy Access To The Roots
As there is less thatch and as the soil has been aerated, more water can penetrate the soil surface and keep the grass hydrated.
Aerates The Soil
By allowing extra oxygen into the soil you will soon notice a marked improvement in the quality of your lawn. All plants need oxygen, thatch deprives the grass of oxygen. Remove the thatch and improve the grass.
Allows More Nutrients To Reach The Grass Roots
Once the thatch is removed, any grass feed you add to the lawn will actually penetrate the soil and get absorbed by the grass roots. When the lawn was covered in thatch most of the grass food would remain trapped above ground and evaporate in the hot sun.
Improves The Overall Health Of Your Lawn
By allowing more oxygen, water and nutrients to get to the grass, you will notice a marked improvement in the lawn's condition. It will be greener, stronger, vibrant and look like a professional golf course.
Prepares The Area For Reseeding
There are often little patches that  look slightly bald in a lawn especially a lawn where moss was growing. By scarifying the lawn you remove all the thatch, penetrate the soil, and create perfect seed sowing conditions.
What Are The Disadvantages Of A Lawn Scarifier
The main disadvantage to using a scarifier on your lawn is, the best time to scarify is at the busiest time of a gardeners year. Early summer is the perfect time to scarify your lawn, along with all of the other tasks that need doing in early summertime. 
Why Scarify In Early Summer? 
The grass has to be at its strongest to withstand the rigours of scarifying and that's in early summer. In spring there's always the chance of a late frost, which can seriously damage grass, especially grass that's been scarified. By autumn the grass is conserving its energy into the roots so that's not a good time, and winter's out too which only leaves summer time.
Lawn Scarifier Buyers Guide
Before you go rushing out to buy a scarifier, consider the following words of advice on what to look for and what to look out for.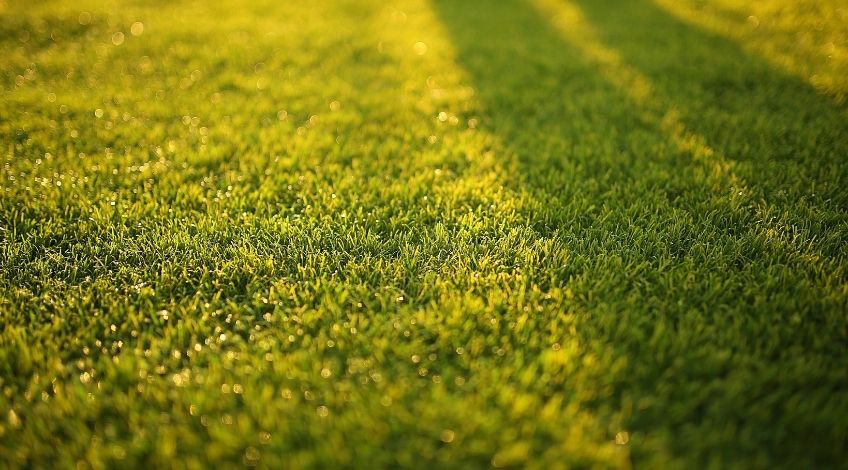 Which Type Of Scarifier?
There are 3 types of scarifier to choose from and the size of your lawn can help you choose the correct type.
Hand-Held Scarifiers
For any lawn under around 100 square foot, a hand-held scarifier would be ideal. They are gentler on the soil and grass, but not so gentle on the user. After spending a couple of hours with a hand-held scarifier most people complain of backaches, painful abdominal muscles and blisters.
If you have a really small lawn a hand-held scarifier is probably the best option for you, one word of advice is wear sturdy gloves to protect you from too many blisters. These are the most convenient when it comes to storage, and they are the quietest to use too.
Electric Powered Scarifier
You've probably seen these advertised under a few different names, they are often called electric lawn rakes, electric scarifiers and powered scarifiers. They aren't too bad price wise, but many of them are just electric rakes and don't do what they're supposed to. Often they don't scarify at all.
That said there are some good models on the market and they're great for medium size lawns. Any lawn larger than a 100 metres squared, is too much for an electric scarifier mainly because the cable will start to snag. Electric Models are relatively quiet, fairly easy to use and on the whole, not too heavy either.
Petrol-Powered Scarifiers
 These are what the professional gardeners use, they are quite a bit pricier than the electric models and of course there is a combustion engine to maintain. But if you have a large area of lawn a petrol scarifier is your only option. The more expensive models have the best reviews so if you do decide to go down the petrol route go for the best model you can afford.
Petrol models are the noisiest in operation, take up the most storage space, can be difficult to start, and are the heaviest to use.
Working Depths
If possible choose a scarifier with a selection of working depths. Removing moss and thatch is quite shallow work so you need to be able to adjust the working depth on the scarifier so that you remove the thatch without ripping out the grass.
Good Teeth
The teeth on a scarifier penetrate the soil to allow oxygen, water and nutrients to reach the grass roots. So the more teeth the scarifier has the healthier the lawn will become. Always choose metal teeth. Either stainless-steel or tempered steel blades are so much sturdier than plastic teeth.
Replacement Teeth
Many of the better scarifiers have replaceable teeth, check on how much those replacement teeth will cost you, as some are much pricier than others.
How Wide Is The Cutting Width?
Scarifying is one of a 1000 jobs that need doing over the early summer period. So you'll be wanting to complete the job as fast as you can. The wider the cutting width, the less time it will take to finish. Some models have a cutting width of around 34 cm.
How Heavy Is The Scarifier?
You're going to be pushing that thing around your lawn for a while, you don't want one that is too heavy. If it starts out heavy imagine how much heavier it will be after using it for an hour or so. Be realistic in how much weight you can comfortably deal with.
Adjustable Handlebars
This can make the difference between scarifying the lawn, and getting a serious backache. Choose a scarifier that has adjustable handlebars to make it easier to use and maneuver around your garden.
Handlebar Handles
Go for non-slip handles if possible, that are shaped in a way that they're comfortable to hold.
How Much Does A Scarifier Cost To Buy?
As there are 3 different types of scarifier out there, the prices vary considerably but here's a few for guidance purposes only.
The Price Of Hand-Held Scarifiers
These start at around £25 and go up to about £75 with one of the main differences being the amount of teeth and how wide the cutting width is.
The Price Of Electric Scarifiers
Electric scarifiers start at around £60 for a 1500W motor with 4 working depth settings, 32 cm cutting width and an onboard grass bag. 
They rise in price to around £500 for a cordless model with a 60 minute battery time, 36 cm cutting width, and a 1 to 3 hour charging time.
For around the £230 mark you can get a corded model with adjustable handlebars, quick change blade system, 4 working depth settings, and grass collection bag.
The Price Of Petrol Scarifiers
Petrol scarifiers start at around £250 with a cutting width of 35 cm, 3 working depths and a grass collection bag. 
They rise in price to around £4,500 which includes 58 cm cutting width, 44 double cut blades, self sharpening, permanently sharp blades, adjustable handlebars, wheel drive( this allows you to let the machine do the pushing) all you need do is steer, and aluminium wheels
Brand
We always recommend you buy any appliance or tool from a well known retailer and made by a reputable company.
Warranty
Any warranty is only as reliable as the company that issues it. That's why we always advise using a well known retailer and buying from a well established company.
Frequently Asked Questions
What is the difference between a scarifier and a lawn raker?
The difference between a scarifier and a lawn raker is that a scarifier removes thatch and  puts holes into the soil to allow oxygen and water to get to the grassroots. A lawnraker just removes thatch
When should you scarify your lawn?
You should scarify your lawn when all threats of frost have gone, so early summertime is best.
Should you scarify before or after cutting grass?
You should scarify after cutting the grass.