Can You Put A Washing Machine In A Bathroom? (read this)
We often get asked this question so we thought we'd use this article to answer it. There are a number of reasons why a washing machine shouldn't be put in a bathroom, but under certain circumstances it is possible. Keep reading to find out more.
Why Is It Not Advisable To Put A Washing Machine In A Bathroom?
In most cases we would advise against putting a washing machine in a bathroom because of safety issues. But there are also practical reasons why you should find somewhere else for your washing machine. Let's take a closer look at why the bathroom might not be the best place for your washing machine.
Water And Electronics
It's never a good idea to put anything electrical in a room where there is a lot of water or moisture. The bathroom is going to be the wettest room in the home so it would make sense that it's not the safest place for the washing machine. If any of the moisture in the air was to find its way into the mechanical parts of the washing machine it could result in personal injury at worst and the breakdown of your washing machine at best.
The only way a washing machine should be put in a bathroom is if it can be plugged in outside of the bathroom and protected by a RCD (Residual Current Device).
Weight Of The Machine
If your bathroom happens to be upstairs, you'll need to carry that heavy washing machine up all of those stairs. Washing machines are made heavy due to the concrete blocks that are used to prevent them from moving about too much when on a spin cycle. Washing machines typically weigh around 70 kg (154lbs) but can weigh as much as 90kg (198lbs), that's a lot of weight to carry up a flight of stairs.
Potential Leakage
There is always the chance that a washing machine might leak at some point. If the washing machine did start to leak it would be a disaster for most of us. Think how much worse that disaster would be if it was upstairs. The water could potentially flood the whole home.
Local Authority Regulations
There are strict local government guidelines pertaining to washing machines and bathrooms which need to be adhered to. These regulations differ from local authority to local authority. Check your local authorities guidelines by clicking here. 
The general rule appears to be that plug sockets cannot be placed in bathrooms unless they are at least 3 metres from a bath, sink or shower. Or be fitted into a fused unit (like the one an electric boiler is fitted into). The only exception to this are shaver sockets as these have a lower voltage.
Rusting
Washing machines are constructed from metal which under the right conditions will rust. Those conditions are wet, damp, moist air which sounds very much like the bathroom.
It's Normal In Some Countries To Put The Washing Machine In The Bathroom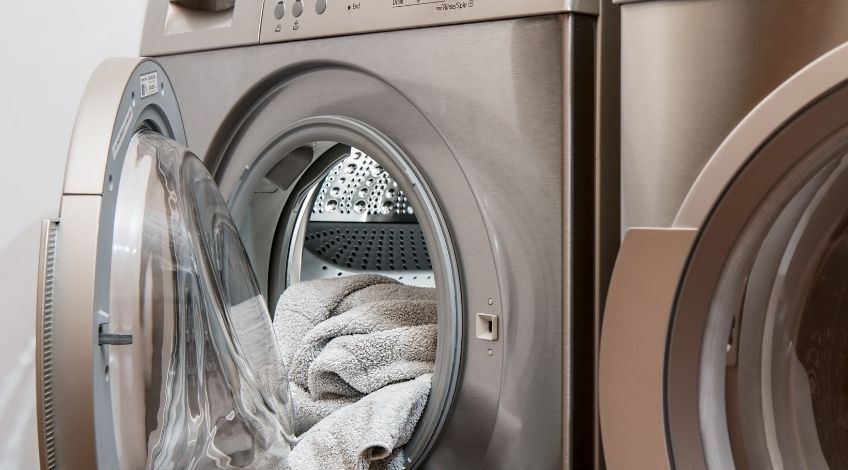 In Germany for instance, the washing machine is almost never found fitted into the kitchen and very often found in the bathroom. Many German housewives would find it unhygienic to wash their dirty clothes in the same room they prepare food. 
Some manufacturers even say in their literature that their machines can be put in bathrooms. Presumably these machines have better insulation around electrical components making them safer to use under damp conditions.
Placing a washing machine in a bathroom which doesn't say it can be put there will invalidate your warranty. So be sure to check before purchase if you intend to put your machine in the bathroom.
Is It Possible To Put A Washing Machine In The Bathroom?
Yes, it is possible to put a washing machine in a bathroom under the right conditions. These include;
A washing machine designed for bathroom installation
The correct power connection
Positioned far enough away from showers, baths etc
As long as the local authority say it's OK
Is There A Right Place To Put A Washing Machine?
The answer to this is no, there is no right place to put a washing machine. In an ideal world, the washing machine would be in the utility room along with the tumble dryer etc. But we don't all have utility rooms or even enough space to fit in the most basic of appliances. 
Which is why we have to ask questions like can we put a washing machine in the bathroom? We hope you find this article helpful and that you will follow all of our safety tips and advice.
Frequently Asked Questions
Is it legal to put a washing machine in a bathroom in the UK?
It is legal to put a washing machine in a bathroom in the UK as long as you follow certain rules. Mainly the machine cannot be plugged into a standard wall socket. You'll need to get a fused connection unit installed by an electrician. Plus the machine cannot be any closer than 3 metres from the bath, sink or shower. Check with your local authority for all relevant rules and regulations.
Can a washing machine go anywhere?
A freestanding washing machine can go anywhere within reason. Obviously it will need to be plumbed in and connected to a drain and an electrical socket. But yes it can go virtually anywhere.
Is it OK for a washing machine to be in a bathroom?
It is OK for a washing machine to be in a bathroom as long as the manufacturer has said it will be OK. You will need to have it fitted to a fused connection unit and site it at least 3 metres from the shower, sink or bath. And check local authority rules and regulations for more information.