Do You Need To Zip Pockets Before Washing Clothes?
Do you just put your clothes in the washer without zipping your pockets closed?
If you're currently doing this, you may want to think twice about this habit.
In this article, let's talk about zipper pockets – and if it's really necessary to zip them up before doing your laundry.
Should you zip up your pockets before putting them in the wash?
Zippers are often found in jeans and items of clothing to secure their pockets. Usually, they are made of two pieces of plastic or metal with a slider that glides up and down to fasten the fabrics.
When washing clothes with zips, it is best to pull them up to close them. Why? Because the "teeth" from the metal or plastic material can easily snag on other items in the wash. When this happens, this can damage other clothes and cause them to rip.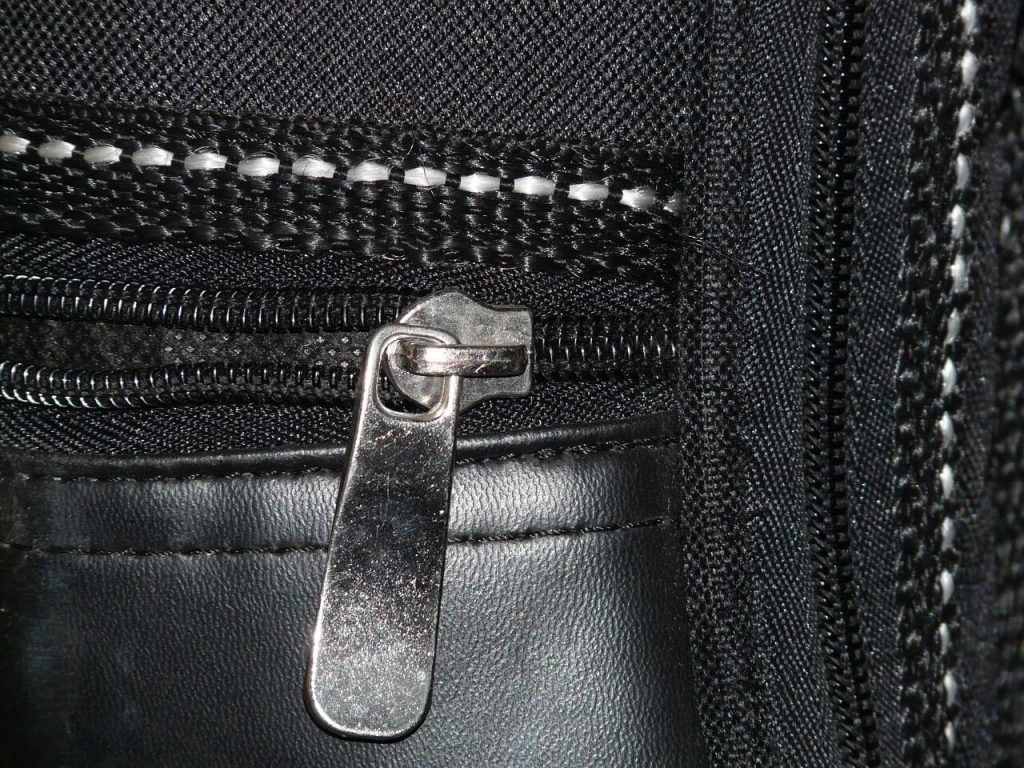 Aside from this, not fastening the zipper on pockets can also scratch and damage your washing machine and tumble dryer. There have already been cases of washer doors breaking due to zippers hitting them once the appliances are on.
If you want to keep your clothes free from getting snagged by a harsh zipper, make sure to not expose the teeth by zipping them all the way through.
NOTE: Aside from zipping them up, make sure to also watch out for forgotten items inside your pockets. Coins and keys can easily be included in the wash which could be bad for your clothes, washer, and dryer.
Tips for washing clothes with zippers
If you own a lot of items with zips, it'll be helpful to know the proper way to wash them.
Make sure to do the following:
Use a safety pin
When putting your zippered items in the wash, you may notice that they come out open when the load is done.
This happens due to the pressure of the water and the garments rubbing together while spinning in the washing machine. At times, your zipper may also be quite loose and it's easy to unfasten them while they're being laundered.
To prevent this from happening, use a safety pin to secure the zipper. You can do this by looping the pin on the slider of your zip, then attaching it to the fabric of your clothing to keep it closed.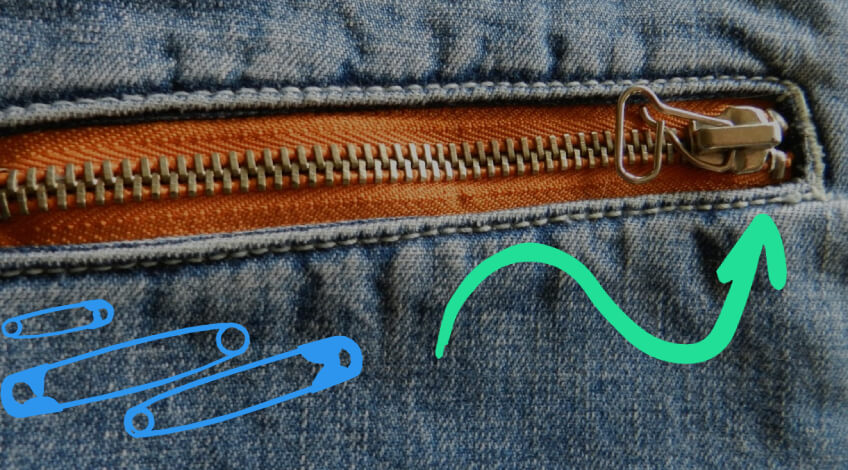 Turn your clothes inside out
If you still hear slight banging inside your washer or dryer, this could be the sound of the zipper hitting your appliances.
Unfortunately, even if you have already zipped it up, the hard parts of the zipper can scratch and hit the inner surfaces of your machine. One of the best ways to prevent this is by turning your clothes inside out.
Once your garments are reversed, the zippers on the outside of your clothes will be securely hidden under the fabrics. As a result, you'll be able to prevent chipping or scratching your appliances.
SEE ALSO: Is It Better To Dry Clothes Inside Out? (yes! here's why)
Use mesh bags
When you wash your clothes together, there will always be friction when they're inside the machine.
At times, zippers can hit other decorative elements on your clothes, which could possibly cause a tear or remove the ornament. Even prints on shirts can also get affected by zippers.
To avoid ruining your clothes, especially delicate ones, it's totally worth investing in quality wash or mesh bags. These are laundry bags that separate delicate or embellished clothing from other items in the wash. As a result, you'll be able to wash them together without risking ruining your clothing.
Sale
AURFLO Mesh Laundry Bag-Set of 3 Medium Heavy Duty Net with Zipper Lock, Color Coding and Hanging Loop-Safe Wash and Organizer for Travel, Lingerie, Gloves, Socks, Yoga Pants, Bra, Jeans, Sweater
AURFLO MESH LAUNDRY BAG is a perfect protector from wear and tear in the washing machine and dryer. It's a crucial for your kids and baby clothes, socks, and gloves, lingerie, yoga pants, scarf, jacket, jeans or even dog sweater, shoes, and stuffed animals - Best for your travel companion, organizer and gifts - With our unique features and a high-quality material it makes us the only choice for your long lasting premium laundry washing bag.
EXTRA ROOM AND EXTRA STRONG - Our 16x16" (40x40 cm) laundry bag made of a high-quality durable material for a long-lasting usage. With our unique breathable mesh construction; extra room and load space, you'll have a thoroughly clean wash in the washing machine and evenly dry process in the dryer.
Make sure to zip up your pockets!
We know how tiring doing laundry can be. However, taking the extra time to zip your pockets before washing your clothes is definitely something you'll need to do.
After all, you won't want to snag your favourite clothes with that pesky zip! And, you'll want to make sure that your washer and dryer will not get damaged by those zippers.
Do you have tips to share when washing your clothing? Feel free to share them below!
Frequently Asked Questions
Should you check the pockets before washing clothes?
Don't forget to check your pockets before doing laundry! There are many things we put inside them: keys, coins, and other small trinkets. These can wreak havoc in your washer or dryer, damaging both appliances and clothes.
Should you unbutton clothes before washing them?
Yes, you should unbutton your clothes before putting them in the wash. This allows the buttons to freely move once your washer starts to spin. If they're buttoned, there's a chance that they'll pop off or damage the other garments in the wash.
How many times can you wear clothes before washing them?
You should only wear underwear and exercise garments once before washing them. For other pieces of clothing like jeans, you can usually re-wear them many times as long as they're still clean and passes the sniff test.
Should you wash clothes right after you buy them?
Make sure to wash your clothes after buying them! Usually, new clothes contain dyes and chemicals that could irritate your skin[1].
What happens if you wash clothes a lot?
Unnecessarily washing your clothes a lot does them more harm than good. Overwashing can fade the colours, weaken the fabrics, and wears the garments out at a much faster rate.