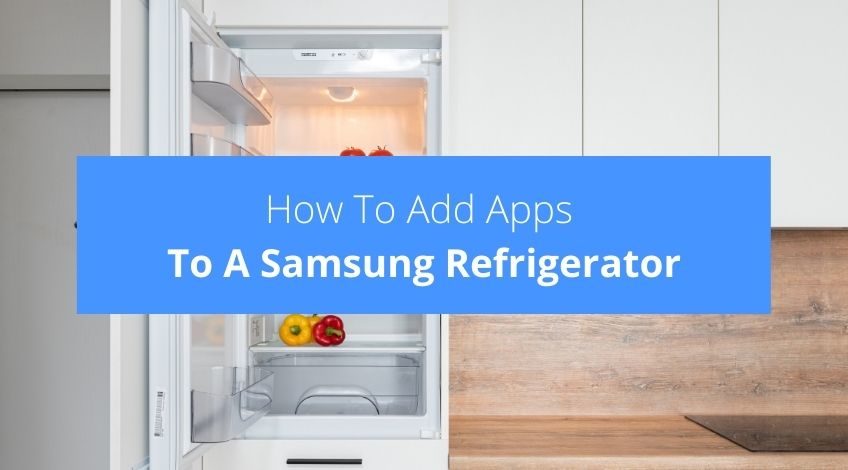 How To Add Apps To A Samsung Refrigerator (in less than 3 minutes)
We live in the age of smart, smart phones, smart TVs and even smart refrigerators. It is now possible to connect your refrigerator to the internet and add apps and widgets. It's not only possible, it's simple to install apps and widgets to your Samsung Family Hub.
There are some limitations connected to the operating procedure of the Samsung Family Hub, but we have discovered a way to work around some of these limitations too. Keep reading for the fastest and easiest way to connect your Samsung refrigerator to your favourite internet sites.
Can Apps Be Added To A Samsung Fridge?
Not only can you add apps to your Samsung Family Hub refrigerator's home screen, you can also add custom wallpaper and widgets too. Samsung provides a list of apps that are available to download directly from your Family Hub refrigerator. This is an exclusive list, by which we mean it is limited but we have found a way to bypass this list.
Which means you can access all of your favourite apps and not just the ones Samsung provides links to. So keep reading to get the best from your Samsung Family Hub.
How To Add Apps To A Samsung Family Hub
This is such a simple process that even the least tech savvy person you know could do this in minutes. Just follow these simple steps;
Tap The Apps Icon
On the refrigerators panel find and tap the apps icon.
Select The App You Want To Add
After tapping the app icon, a list of apps will appear on your screen. Just select the app you want to add and tap it.
Select Add To Home On The Popup Menu
After selecting and tapping the app you want to add a popup menu will appear, tap the "add to home" option.
Touch The New App
To move your new app to the position on the screen that suits you, just touch and drag the icon to your desired location on the screen. 
Are All Apps Available For The Samsung Family Hub Refrigerator?
You can't access all of the apps in the app store that's available on your PC but there are a number of useful apps available to download including things like:
Food
Entertainment
Home 
Connection
Food
Using this app allows you to make grocery shopping lists, make meal plans, see what you have in the fridge already, access recipes, check expiry dates of items in your fridge, plus a host of other features. Features like the ability to order meals from your favourite restaurants, find discount coupons for local stores, discover special offers etc.
Entertainment
You can access certain sites via their apps, sites like Spotify, Pandora, Amazon music and also live radio channels like i Heart radio, TuneIn and NPR. You can also mirror what's showing on your smartphone and smart TV.
Home
This allows you to access your smart doorbell so you can answer the door via the refrigerator, this allows you to speak, hear and see who's at your door whilst never leaving the cooker unattended. Adjust your home's heating etc, anything that works via smart technology can be accessed via the refrigerator family hub.
Connection
You can access the internet via the family hub, add and display photos remotely from your phone. This feature allows anyone that's connected to your fridge to add photos, if your kids are away at college and want to share a photo with the family back home, they can send it directly to your fridge display. 
You can also access other internet features like; weather updates, uber, car rental sites, hotel bookings etc.
Is The Youtube App Available On The Samsung Refrigerator Family Hub?
The youtube app isn't available on the Samsung family Hub but it is possible to access youtube via desktop shortcuts just like a regular PC. You can then access youtube anytime from the fridge screen as you would on your smartphone or laptop.
Can The Family Hub Be Synced With Your Smartphone?
You can sync your family hub to your phone and to your TV. This gives you access to a multitude of features that refrigerators just weren't invented for. Features like;
Bluetooth
You can turn your Family Hub refrigerator into a giant bluetooth speaker which will play any music that's downloaded to your smartphone or other devices that are connected to the fridge.
TV Shows
Once your fridge is linked to your smart TV you can leave the living room to prepare a meal in the kitchen and still keep up with the show you were watching via the fridge screen.
Phone Calls
Once the fridge is synced with your smartphone, you can use the screen on the fridge to make calls via the touch screen panel. And answer calls to your phone via the fridge too.
Shopping List
You can write your shopping list directly onto the fridge screen as you use up any ingredients which can then be accessed via your smartphone whilst out shopping.
Easy Access
As the screen is so large, and the display is so bright, it is easy to use the touch screen to send text messages, locate apps, in fact any function available on your smartphone can be accessed via the family hub, only it's larger and easier to see.
Limited App Access
Even though you can download apps directly to the family hub which makes your life more convenient, there are limitations to the amount of apps you can access. However, you can bypass the apps by linking to the sites you prefer via the internet browser.
Frequently Asked Questions
Can I access the youtube app on the Samsung family hub refrigerator?
You can't access the youtube app directly from the available apps on the Samsung family hub refrigerator. But you can access youtube via the internet browser on the Samsung family hub refrigerator.
Can you watch TV through the Samsung family hub?
Once you sync your family hub refrigerator with your smart TV you can watch TV through the Samsung family hub.