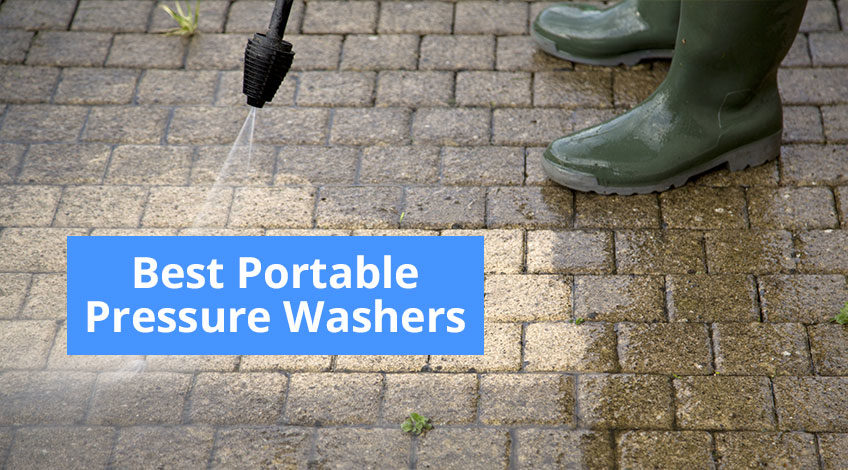 Last

Updated: Nov 2023
Best Portable Pressure Washers 2023
It's no secret that pressure washers are a convenient and fun way to clean many outdoor areas. From cars, boats, patios, decking and walls to whole houses, pressure washing is a great way to clean without using lots of energy or water. Some of us don't have an outside tap, or maybe you live in a flat but still want to clean your car in a way that can only be achieved with a pressure washer.
That's where portable pressure washers come in handy. Imagine you own a boat, but the yard in which it is kept has no power and no running water, you need a cordless pressure washer with a built-in reservoir. Or if you have no outside tap and don't need one for any other purpose, or you live on the top floor of a tower block but want to wash your car. It might be time to enter the world of the portable pressure washers.
There are many points to consider before you make your purchase and we'll be covering them all in this post. We'll look at the benefits, the disadvantages, and more importantly what to look for before you buy a portable pressure washer.
Best Selling Portable Pressure Washers UK
Sale
Bestseller No. 1
Sale
Bestseller No. 2
Bestseller No. 3
Sale
Bestseller No. 4
Cordless Power Washer Gun 21V Electric Portable Pressure Cleaner Battery & Charger for Home Travel Garden Yard with 5M/25CM Hose Portable Jet Wash White
【Battery & Charger】 Get rid of the limitations of the electric wires, and don't have to worry about no power outlet when outdoors. The portable battery can help you easily carry it out, and its compact size is easy to store in your trunk. It is convenient to take out when you want to use it.16.4 ft Hose and filter, you can even choose tap water, river water to clean.This is an ideal tool to clean your car, motorcycles, yard, fence and watering flower.
【Adjustable Nozzle】 Our high pressure washer features the adjustable nozzle: From 0°~180°, it can be adjusted according to your needs and be widely used for cleaning vehicles, bikes, boats, windows, BBQ grill and driveway. The compact design and lighter body make it very easy to carry when you go out or camp. And you can assemble it in just a few minutes.
Bestseller No. 5
How Do Portable Pressure Washers Work?
Pressure washers work by sending high-pressure water through a pipe directed at the item needing cleaning. As the water is powered through an internal pump it is pressurised to a greater level than could be achieved straight from a tap at mains water pressure. The nozzles at the end of the pipe further constrict the water jet giving it more or less power depending on the nozzle attachment used.
Pressure washers are usually powered by means of an electric cable that's plugged into the mains socket. And the water is usually supplied via a hose connected to an outside tap. 
Portable pressure washers work on a similar principle but have an onboard water tank to store water, meaning there is no need for an outside tap or any other water supply. There are also cordless pressure washers that don't need to be attached to the main electricity supply but are powered by a rechargeable battery unit so no electric cables dragging while in use either.
Other types have a hand primer to fill the container with air pressure and this is how the machine is powered. No electricity or batteries to worry about just how much energy you can produce.
What Are The Benefits Of A Portable Pressure Washer
The main benefits of a portable pressure washer is just that – It's portable, you're free to use it wherever you like, with no constrictions on power availability or water supply. Simply fill the reservoir up at home after fully charging the battery, and take the pressure washer to wherever you want to wash.
Portable pressure washers can be used in any remote place that you need to take it. And can be used on
Caravans
Boats
Cars
Patios
Driveways
Fences
Railings
Fascias
Sidings
Houses
Decking
Bicycles
Motorbikes
And anywhere else you can possibly think of.
So the main benefit of a portable pressure washer is its portability, giving you the freedom to wash virtually anything, anywhere at any time that suits you.
What Are The Disadvantages Of A Portable Pressure Washer
There are a few disadvantages to using a portable pressure washer, one is the weight, as they have a water tank on board with a capacity for up to 15+ litres and as each litre of water weighs 1 Kg, added to the weight of the machine, this can be heavy to lug around. That said many have wheels to make moving much more convenient.
Other considerations, all pressure washers are quite noisy. 
Cordless pressure washers only have as much power as the battery can store, and this can limit your cleaning time.
Portable Pressure Washer Buyer's Guide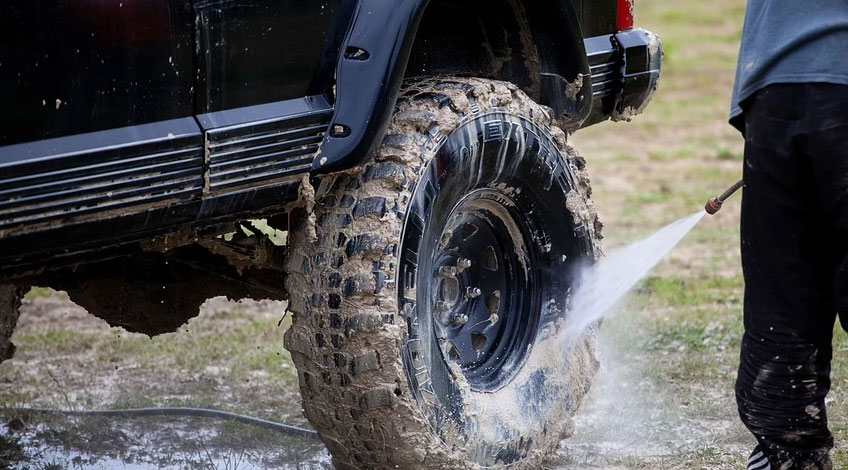 Before buying a portable pressure washer, there are a few things to be considered, below in no particular order are the main things to think about.
Water Tank Capacity
How big is the water reservoir, this will determine how often you need to refill with water. Also how easy is it to refill, can you easily access the filler with a tap, or will you need some sort of hose to fill the tank.
Wheels
If you struggle with carrying weights or if you intend to purchase a model with a large capacity water storage tank, it's best to purchase a portable model with wheels.
Power
Do you want a: mains powered, rechargeable battery-powered, plug into the cigarette lighter on the car or hand primed air pressure powered washer. You need to consider where, how, and how often you are going to use your pressure washer to answer this one.
Run Time
If you decide on a rechargeable battery power washer, you need to consider how long will the battery last, and how long does it take to recharge.
Weight
If you are going to have to carry the pressure washer, either to the car or from the car to the boat or whatever, you need to consider if you can physically manage it. Remember units with onboard water reservoirs will be considerably heavier than hose fed units.
Attachments
Some portable pressure washers have built-in jet sprays with bristle brush ends that cannot be removed, others have various attachments that are interchangeable. You need to choose the model that suits your needs.
Detergents
Some portable washers have the facility to add an attachment especially for adding detergent to the power washer, others don't. If adding detergent is important to you, you will have to get a model that has this ability.
Size
Some models are much larger than others, you need to consider how much storage space the washer will take up when not in use.
Portable Pressure Washer Price
How much do you want to spend? For occasional usage, a cheaper model will probably suit you but, you might prefer a top of the range model. The choice is yours.
Frequency Of Use
If you plan to use your power washer every week, for instance, to clean your trials bike after an event, you might be better opting for a top of the range, more expensive model. If however, you will only be using yours occasionally, a cheap and cheerful model will probably suffice.
Brand
It is always best to buy from a reputable retailer and to buy a pressure washer from a well-known brand. These tend to be experts in the manufacture and design of machines and usually have a decent customer care service in the event of any problems.
Warranty
Any warranty is only as good as the company that offers it. This is why it's always best to purchase a well-known brand from a reputable retailer. An unknown company will probably be long gone before any warranty has run out.
How Much Does A Portable Pressure Washer Cost?
Portable pressure washers start at around £19 for a hand primed, 8-litre capacity unit, and rise to around £180 for a hose fed, inline filter, with variable pressure settings, and a 2-year manufacturers warranty. Decent models can be bought for between £50-£100 depending on specifications.
Frequently Asked Questions
Can I use my pressure washer from a bucket?
Many portable pressure washers can be run from water supplied by a bucket. This is by means of a suction hose attached to the washer.
Are portable pressure washers any good?
Portable pressure washers are great for storing in your car, caravan, or boat, and if you live in flats or have no outside tap.
How many gallons of water does it take to wash a car with a pressure washer?
It takes on average 40 gallons of water to wash a car, this is subject to water flow and pressure.
Is Power washing a waste of water?
Using a pressure washer uses much less water than other forms of washing. In some cases, a pressure washer will use 75% less water than a garden hose.
Does pressure washing raise the water bill?
This depends on how you use the pressure washer, in most cases using a pressure washer will save you money on your water bill.
What is the difference between a power washer and a pressure washer?
The main difference between a power washer and a pressure washer is heat. A pressure washer uses cold water at high pressure to clean whereas a power washer uses hot water.