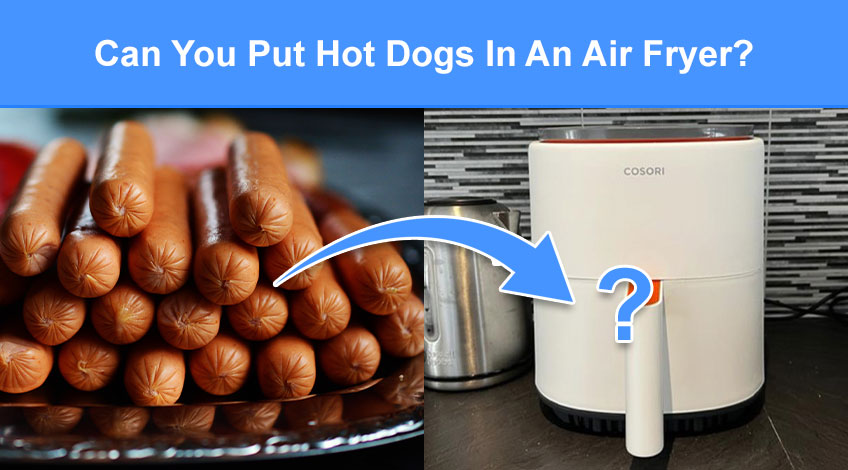 Can You Put Hot Dogs In An Air Fryer? (read this first)
Nothing says Summer evening meals better than hot dogs and cooking hot dogs in an air fryer is the easiest, fastest and tastiest way to cook them.
To find out just how simple it is to cook perfect hot dogs every time, keep reading.
Why You'll Love Air Fried Hot Dogs
Hot dogs are a Summer staple and are so easy to cook anyway but they're so much easier to cook in an air fryer, apart from simplicity there are other reasons why we know you'll love these air fried hot dogs. Which include;
Speed of cooking
You can cook perfect hot dogs in less than 4 minutes
No mess
All you'll need to use is the air fryer which means there's no mess to bother with
Done in a few minutes
Hot dogs can be cooked and served in less time than it takes to get a pan of water boiling
Easy to clean up after cooking
As the only cooking pot used is the air fryer basket, there's little to no washing up at all
How To Cook Hot Dogs In An Air Fryer
We're not going to say that cooking hot dogs in an air fryer will change your life, but they will free up more of your valuable time.
Ingredients
4 Hot Dogs
4 Hot Dog Buns
Method
Preheat the air fryer to 200 C (400 F)
Slice the buns and place them in a single layer in the air fryer basket allowing a space between each bun
Cook for 2 minutes or until crisp
Remove and set aside
Place the hot dogs in the air fryer basket and air fry for 3 minutes or until the internal temperature reaches 75 C (167 F)
Remove the hot dogs from the air fryer and place in the hot dog buns
Serve
Air Fried Hot Dogs Cooking Tips
There's no need to preheat the air fryer before cooking hot dogs but they will cook more evenly if you do
Make slits in the hot dogs at about 2.5 cm (1 inch) intervals along the length. This allows those tasty toppings something to stick to
Brush each bun with butter or olive oil before air frying to help them to crisp up
Air Fried Hot Dogs Serving Suggestions
Hot dogs can be enjoyed on their own smothered in tomato ketchup and/or mustard or served with;
Chips
Coleslaw
Fried onions
Salad
Potato Salad
Sweet Potato Chips
Baked Beans
Corn On The Cob
Jacket Potatoes
How To Save On Washing Up When Cooking Hot Dogs In The Air Fryer
One of the best pieces of advice we can share about saving on washing up when using an air fryer is to buy yourself some disposable paper liners.
These are a convenient solution for cooking hot dogs and other foods as they prevent sticking – making cleanup easy. 
These non-stick liners come in various sizes to fit all types of air fryer and contain the grease and sauce. 
To learn more, click here.
Can You Cook Sausages In An Air Fryer?
If you don't have any hot dogs, you can just as easily cook sausages in the air fryer. They will take substantially more time to cook but you will get perfect results every time.
To find out just how to cook sausages in an air fryer click here. In that article you will find out how long it will take to cook sausages, at what temperature and the easiest, least messy way to air fry them.
Why do all hotdogs look so similar?
Because they're in-bread!
SEE ALSO:
Frequently Asked Questions
Can I cook hot dogs in an air fryer?
You can cook hot dogs in an air fryer. Set the air fryer to 200 C (400 F) and air fry for 3 minutes.
Are hot dogs better in an air fryer or microwave?
Hot dogs are definitely better in an air fryer rather than a microwave. Air fried hot dogs are less mushy, soggy or rubbery than microwaved hot dogs. In fact, air fried hot dogs cook crisp on the outside and soft and juicy on the inside.
What's the fastest way to cook a hot dog?
The fastest way to cook a hot dog is in the microwave where a hot dog can be cooked in around 1 minute.
Are hot dogs better boiled or fried?
Hot dogs are better fried because boiling them removes a lot of the flavour from the hot dogs.
Are all hot dogs precooked?
All hot dogs should be precooked but you should still always reheat them fully to prevent any harmful bacteria from infecting you or your family.