How To Start A Pressure Washer (Beginner Friendly)
Using a pressure washer to clean your driveway, patio, fences, railings, or even your car is a fun way to spend an hour or so. It takes the work out of so many chores, that you'll soon be looking for excuses just to use your pressure washer. But, unless you know the correct technique to operate your pressure washer, you're going to fall at the first hurdle.
Assuming this is your first time of ever owning or using a pressure washer, the very first thing you need to know is how to start it right? Well, sort of, you see before starting a pressure washer there are a few things to consider. Preparation is key to using a pressure washer, so let's jump right in at the first consideration.
How To Prepare The Pressure Washer For Use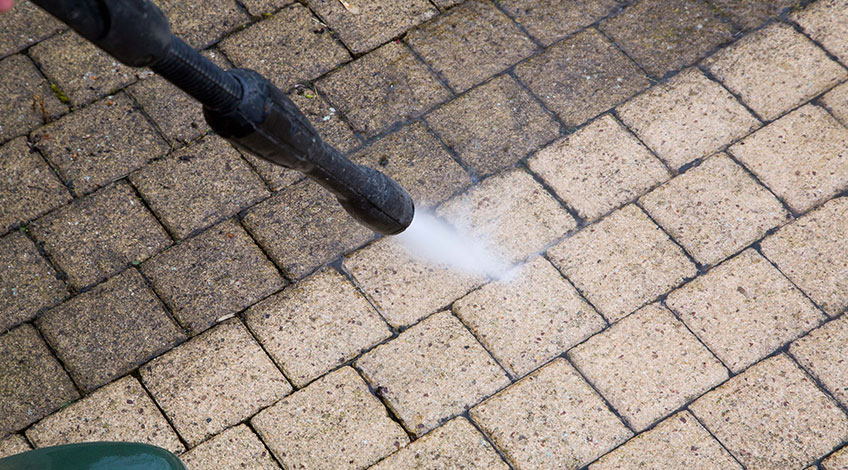 Whether you have a petrol-powered pressure washer or an electric-powered pressure washer, the following instructions apply to both.
Connect the garden hose to your pressure washer and turn on the water supply
Install the nozzle you are going to use
Turn on the pressure washer and allow it and the power hose to fill with water
Check all connections for leakage – if there are any leaks tighten connections and then go to the next step.
Before starting the engine or turning on the motor, press the trigger and hold for up to 30 seconds to remove any air or water from the system.
Then we have to look at power specific instructions.
How To Start A Gas/Petrol-Powered Pressure Washer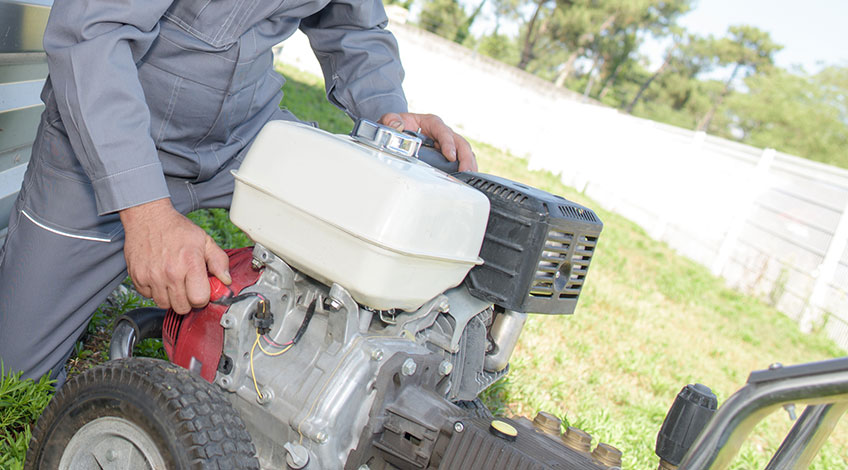 To start a petrol-powered pressure/power washer just follow these simple instructions for a (mostly) problem-free start-up every time.
Check the fuel and oil levels are adequate in the engine and water pump oil levels too.
Connect the garden hose to the inlet connector
Turn on the water
Press the trigger to release air and water from the system (as above)
Switch engine to the on position
While still pressing the trigger, pull the engine cord
Regulate the choke to keep the engine running smoothly.
How To Start An Electric-Powered Pressure Washer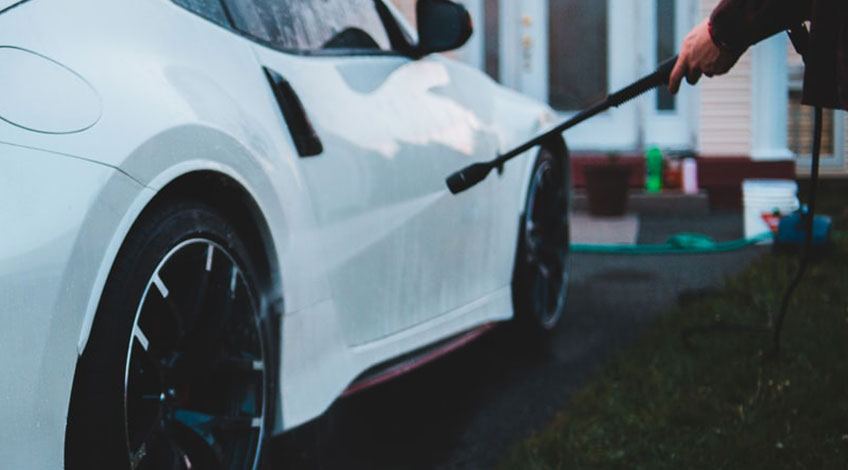 Electric pressure washers are easier to start than petrol models, there is less to do and you don't have to pull on any rope either. Follow these startup instructions
Connect the garden hose to the inlet connector
Turn the water on
Press the trigger to remove any air or water from the system (as above) 
While still pressing the trigger, turn the washer switch to on
Startup Tips For Both Electric and Petrol Powered Pressure Washers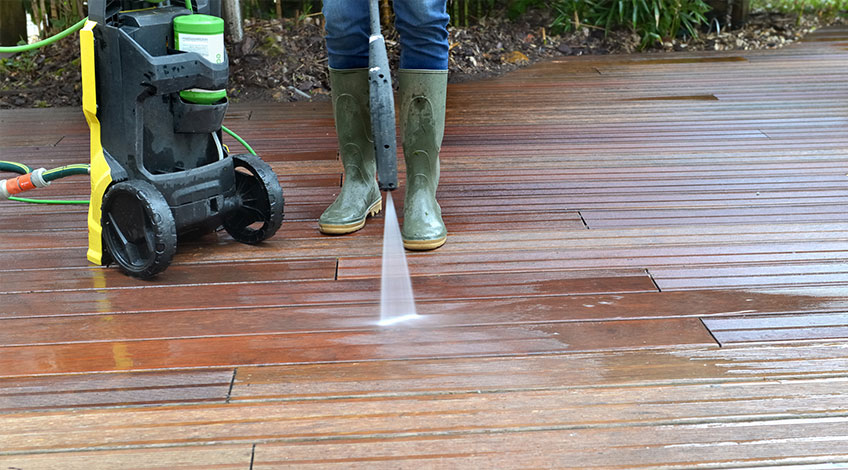 To ensure the smooth operation of your pressure washer always check the following:
Make sure there are no kinks or leaks in the garden hose
Make sure water tap is turned on
Check you have sufficient fuel/oil (petrol-powered) 
Check the plug is in and the power is on (electric-powered)
Check all nozzles are unblocked to allow free water flow
Check all hoses and connections for leaks
Check trigger mechanism is operating correctly (return spring)
Check that the water inlet filter is clean and free from any debris
Check there are no fuel or oil leaks (petrol-powered washers)
Check you're using a cold water supply
Check there is sufficient airflow to allow the engine/motor to remain within recommended temperature parameters
By sticking to these guidelines, you should have a problem-free experience with your pressure washer. If you do encounter any problems not covered in this post head over to our pressure washer problems page by clicking here.
Need A New Pressure Washer?
If your pressure washer isn't starting and none of the troubleshooting advice has fixed the problem, it may be necessary to buy a new pressure washer.
The first consideration to take into account is whether to buy a gas or electric-powered model.       .Let's look at the pros and cons of each type of pressure washer before you make your choice.
| | Gas-powered | Electric-powered |
| --- | --- | --- |
| Maximum pounds per square inch of pressure (PSI) | 4,000 psi | 2,200 psi |
| Water temperature | hot | cold |
| More maintenance needed | yes | no |
| Possibility of mechanical failure (more or less likely) | more | less |
| Initial cost (more or less) | more | less |
| Longevity (average lifespan) | 300 – 3,000 hours | 60 – 100 hours |
| Noise level (loud or louder) | louder | loud |
| After purchase costs | yes | no |
| Inhibited by the power cord | no | yes |
| More likely to use regularly | no | yes |
| Requires regular maintenance  | yes | no |
| Easy to repair at home | yes | no |
As you can see from the chart above, there are pros and cons to both types of pressure washer but the ultimate choice is yours. For further advice on choosing the right pressure washer for you click here.