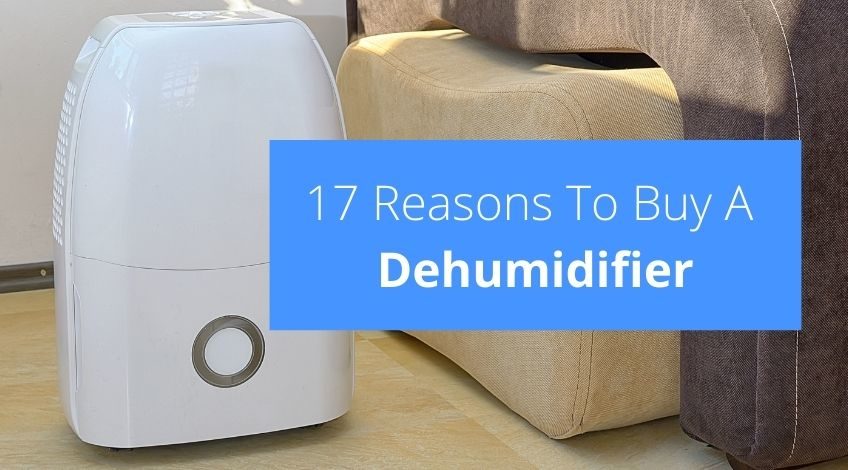 17 Reasons To Buy A Dehumidifier
Dehumidifiers are great at removing damp and moisture from a room. But they do so much more than that.  Dehumidifiers can be used at home, in the office, at events, anywhere that the air could do with less moisture (and there's a plug socket) will benefit from having a dehumidifier in situ.
For a room to feel comfortable the humidity should be between 45 to 60% humidity. Anything above 70% humidity will feel oppressive and extremely uncomfortable. If the humidity ever got as high as 100% body sweat would not evaporate and we would feel seriously uncomfortable.
This is probably why dehumidifiers have gained in popularity so much here in the UK. We suffer from wet, cold winters and wet warm summers, it's no wonder that we need to dehumidify our homes to remain comfortable. 
So What Is It About Dehumidifiers That Make Them So Desirable?
Relieves Breathing Problems Like Asthma
Hot humid air can irritate breathing problems. So can spores from mould, mildew and dust mites. Unfortunately, dust mites and mould and mildew spores thrive in moist conditions. By operating a dehumidifier, you will eliminate the conditions needed for these irritants to grow.
And it's not just breathing allergies, other common reactions to allergy irritants include, skin rashes, sneezing, stuffy, blocked nose, and itchy eyes.
Help To Remove Bad Smells
Damp air often smells of mould and mildew, by removing the damp air, you will remove the associated musty, old church like smells too. Leaving your home smelling and feeling fresher.
Reduces Energy Costs
This sounds somewhat counter intuitive, as dehumidifiers run on electricity, but removing moisture from the air, reduces the need for air conditioning.
Winter Washing Dries Faster
In winter, when it's not possible to dry washing outdoors, dehumidifiers help to remove moisture from the air. Less moisture in the air means faster drying times for washing. Some dehumidifiers even have a washing program, designed to emulate warm summer breezes to dry washing faster.
Better Air Quality
Many dehumidifiers have integrated air purifiers to help remove dust and pollutants from the air.
Cools You Down
High moisture levels make the temperature feel hotter than it actually is. Dehumidifiers make the room dryer, and feel cooler.
Able To Be Used In Any room
Depending on which model of dehumidifier you buy, they can be used in any room and down to temperatures as low as -20 C (-4 F).
Easy Portability
Many dehumidifiers are lightweight and can be moved easily from room to room. Some even have wheels for easier movement.
Inexpensive To Buy
With some of the smaller models costing around £40 there will definitely be a dehumidifier to suit your budget. To purchase a dehumidifier large enough to cope with the humidity of an average 3-bedroom house with a 10-litre capacity for water collection, you can expect to pay around £100.
Easy To Maintain
Most dehumidifiers have a filter that will need to be cleaned every so often. If possible go for a top-loading filter as these are the easiest to access. Other than that all you have to do is empty the water reservoir once it's full.
Automatic Shut-Off
If the model you choose has automatic shut-off, you will only use as much power as you need. Once the humidity level in the room falls, the dehumidifier will cut out. This is another energy saving feature that will save you money.
Continuous Drainage
For really damp, humid rooms or cellars etc, there are some dehumidifiers that connect a hose to the water reservoir that is fed into a sink or drain, to allow continuous drainage with no cut outs from full water tanks.
Automatic Restarts
During power strikes, outages etc, a sensor in some dehumidifiers will automatically restart the motor once the power is restored. This also works with the automatic shut-off using smart technology to allow maintenance-free usage.
Automatic Defrost
Some models have this feature which is useful if you plan on using the dehumidifier in colder climates. Most dehumidifiers can tolerate a degree of cold but these automatic defrost units can be used without fear of damaging any components due to the coil icing over.
A Large Range Of Sizes Available
Dehumidifiers come in many sizes, making them suitable for small, medium and large spaces. With water capacities ranging from 25 pints (14-litres) to over 60 pints (34-litres) there will definitely be a model to suit your room size and budget.
Stylish Designs
With as many designs as sizes, and with far more companies manufacturing dehumidifiers for home use. They have moved away from the old industrial looking models of yesteryear and are now very stylish indeed. And will not look out of place in any room of the house.
Inexpensive To Run
The average power rating of a small dehumidifier is around 300 Watts, and a large dehumidifier is around 700 Watts.This means to run a 300 Watt model will cost on average around 4.8 pence per hour, and a 700 Watt model will cost around 11.2 pence per hour to run. Assuming electricity is charged at 16 pence per kW/h.
Dehumidifier Energy Consumption Compared With Other Electrical Appliances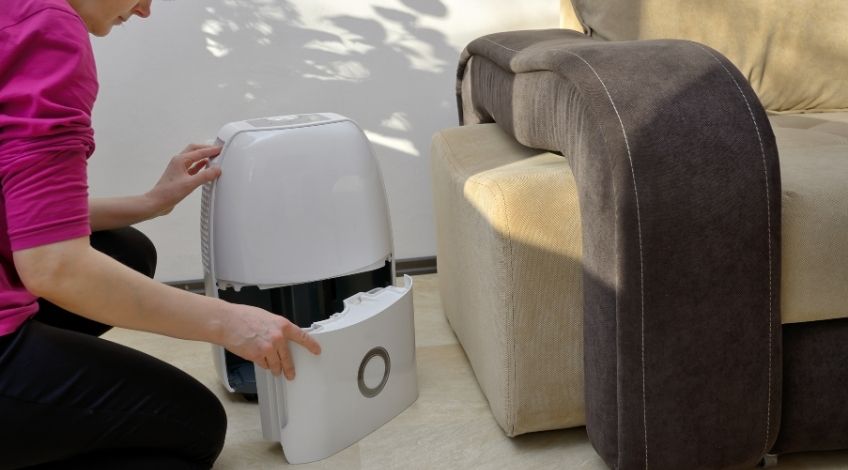 Here is a list of electrical appliances and how much power they consume. All Wattages are approximations and for guidance purposes only.
| Electrical Appliance | Energy Consumption In Watts |
| --- | --- |
| Water Heater | 12000 Watts |
| Air Conditioning Unit | 3300 Watts |
| Washing Machine | 3000 Watts |
| Iron | 2000 Watts |
| Hair Dryer | 1900 Watts |
| Rice Cooker | 1400 Watts |
| Toaster | 1400 Watts |
| Vacuum Cleaner  | 1200 Watts |
| Microwave Oven | 1100 Watts |
| Electric Kettle | 750 Watts |
| Large Dehumidifier  | 700 Watts |
| Personal Computer | 550 Watts |
| Small Dehumidifier | 300 Watts |
| Refrigerator | 200 Watts |
| Television Set | 180 Watts |
| Ceiling Fan | 100 Watts |
| Desk Fan | 75 Watts |
| Mobile Phone Charger | 35 Watts |
| LED Light Bulb | 10 Watts |
Frequently Asked Questions
How long do dehumidifiers take to be delivered?
The length of time it takes for a dehumidifier to be delivered is dependent on where you buy it from. If you buy a dehumidifier from Amazon Prime you can get next day delivery. Appliancesdirect also offers next day delivery, currys also offers next day delivery, Argos also offers next day delivery too. Check your preferred store and see when they can deliver.
Are dehumidifiers worth buying?
Dehumidifiers are worth buying as they help to prevent damp, mould, asthma attacks etc, and save you money on air conditioning, remove bad smells, and can be used in any room.
What dehumidifier manufacturer should I order?
There are lots of dehumidifier manufacturers all making decent models, some of the more popular are ElectriQ, Meaco, Ebac, Ecoair, and many more.
Is it safe to shop for a dehumidifier online?
It is safe to shop for a dehumidifier online, as long as you buy from a reputable, well-known company.
Can I buy a dehumidifier on finance?
You can buy a dehumidifier on finance, many retailers have their own finance and many offer 0% finance. Check and see which model, retailer and deal suits you.