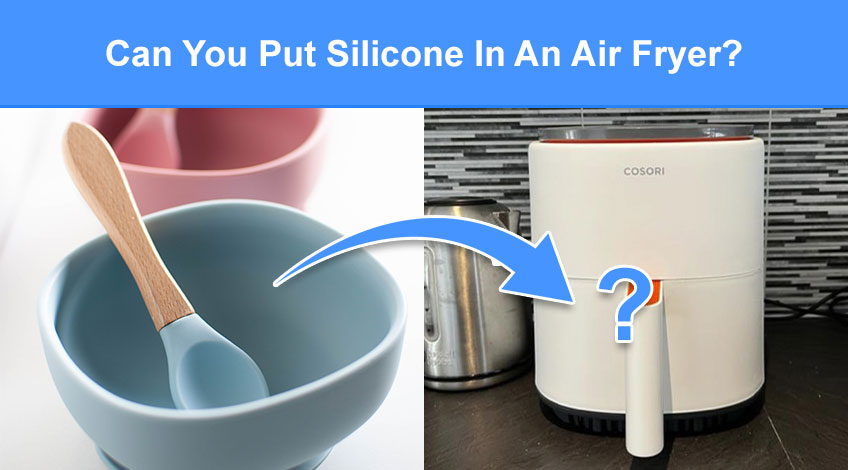 Can You Put Silicone In An Air Fryer? (read this first)
You can use silicone cookware in an air fryer. Silicone cookware is safe up to temperatures of 220 C (440 F) and as the air fryer isn't normally used to produce heat of more than around 200 C (400 F) it's perfectly safe to use silicone cookware in the air fryer.
The Benefits Of Silicone Cookware
Many cooks have discovered the benefits of using silicone cookware in the kitchen. These benefits include;
Resilience
Unlike ceramic cookware, silicone will not break if dropped and will bounce back into shape if squashed
Easy To Clean
Silicone cookware can be washed easily in  warm soapy water or washed in the dishwasher
Allows Even Heat Distribution
Silicone cookware distributes heat evenly which means any food cooked in silicone cookware will be cooked thoroughly at an even temperature
Cools Down Fast
Silicone cookware doesn't retain heat for too long after being cooked. Which means within a few minutes of coming out of the air fryer, it's cool enough to handle with your bare hands
Can Be Taken From Freezer To Air Fryer
Silicone cookware has what's known as thermal stability which means it can be taken directly from the freezer and placed in the air fryer without breaking or warping out of shape
Versatile
Silicone cookware can be used in an air fryer, conventional oven, steamer and microwave oven
Safe To Use With Food
Silicone cookware is made from food grade silicone which means it's safe to use with food and will not leach any harmful chemicals or toxins into the food
Stores Easily
Silicone cookware is lightweight and therefore easy to store and there's no need to worry about it getting broken in the store cupboard
Non-Stick
Silicone cookware is non-stick which means there's no need to grease the pot before use. It also means you will not need paper liners when making cupcakes
Inexpensive
As silicone cookware is easy and inexpensive to produce, transport and store, it is relatively cheap to buy especially compared to ceramic cookware
Why Use Silicone Cookware In The Air Fryer?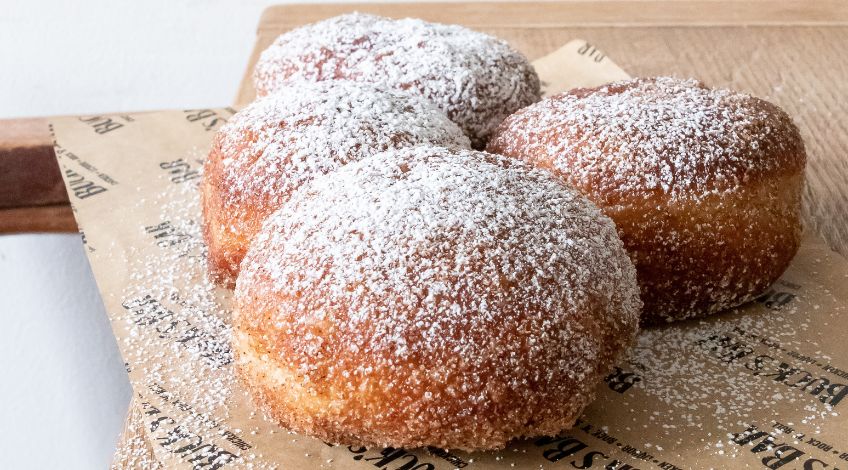 Besides all of the above benefits, silicone cookware is great for use in the air fryer because it prevents food from spilling into the air fryer. Fat, grease, marinades, crumbs etc all stay contained in the silicone cookware and not leaking all over the air fryer basket.
Using silicone cookware also allows you to cook many baked goods in the air fryer including;
Donuts
Cupcakes
Cinnamon Rolls
Pastries
Muffins
Cookies
Cakes
And Much More
Baking in the air fryer means you only heat up a small area which saves money. Added to this is the easy clean up when using silicone cookware in the air fryer which saves time and money on washing up.
Another advantage of using a silicone dish in the air fryer when baking is how quickly it cools down. Which means you can take your baked goods out straight after cooking them.
As the silicone cake moulds are non-stick, there's no need to use extra fat. Grease or oil to prevent the cakes from sticking which means you can reduce the fat content of your cakes simply by using a silicone dish.
What Silicone Cookware Is Available For Use In An Air Fryer?
There are a number of different silicone moulds and cookware available for use in the air fryer. These include;
Air Fryer Basket Liners
Cupcake Moulds
Muffin Trays
Triangle Pizza Slice Cake Moulds
Cookie Moulds
Granola Bar Moulds
Egg Pans
Cake Moulds
Heart Shaped Moulds
Baking Mats
Halloween Moulds
Steamer Baskets
And Much More
koitoy 2PCS Silicone Pot Air Fryer Liners for Ninjas Dual Air Fryer,Reusable Double Silicone Air Fryer Liner, Air Fryer Accessories Air Fryer Basket for Air Fryer, Oven, and Microwave (Black)
🥘【For Ninjas Dual Air Fryer】Our silicone air fryer liner specially designed for Ninjas Dual Air Fryer, Can cook two cooking at the same time, The reusable silicone air fryer liner is more affordable, Great alternative to disposable paper fryer paper.
🥘【Premium Material】Our air fryer silicone pot is made from 100% food safe grade silicone.It is non-stick, non-toxic, no odor, BPA-free and highly heat resistant and can withstand temperatures up to 450°F and down to -40°F.Dimensions 19.5*12*7cm, Suitable for air fryers, ovens and microwaves.
Sale
Ouligay Air Fryer Egg Moulds Silicone Air Fryer Egg Mould Silicone Fried Egg Moulds Air Fryer Silicone Egg Moulds 3cavity Egg Pan for Egg Bites, Muffin Top, Breakfast Sandwiches
Compatibility: 9.0" fried egg pan for 6QT-10QT air fryers, air fryer egg mould suitable for Gourmia, Ninja, Phillips, Nuwave, Gowise, Dash, Cozyna, Cosori, Ultrean, Vremi, Power XL air fryers. air fryer fried egg can also be used in microwaves, ovens, fridges, steamers etc
Non-stick design: We have upgraded the design of the inner surface of the silicone tray where it comes into contact with the food so that it does not stick to the food, making it very easy to remove the food and clean the silicone tray. You no longer need to carefully place the mould filled with ingredients into the air fryer to avoid it collapsing
Tips On Using Silicone Cookware In An Air Fryer
It is 100% safe to use silicone cookware in the air fryer however, you should always stick to the following advice;
Always use the correct sized silicone cookware for your specific air fryer, this means allowing enough space for the hot air to flow freely
Never place the silicone cookware directly on the heating element
Take care when removing the silicone cookware from the air fryer as it may still be hot. Even though silicone cools down relatively quickly, it can still retain heat for some time after cooking
How can you tell if someone owns an air fryer?
Trust me, they'll tell you! 😂
SEE ALSO:
Frequently Asked Questions
Is silicone safe for air fryers?
Silicone can withstand high temperatures which makes it ideal for use in an air fryer. Always use food grade silicone cookware in an air fryer and handle with care after cooking as it will retain some heat.
Can I put a silicone dish directly from the freezer into the air fryer?
You can put a silicone dish directly from the freezer into the air fryer without worrying that the dish will crack, break or warp out of shape.
Is it really safe to cook in silicone?
In 1979 the American Food & Drug Administration (FDA) declared silicone to be safe for use in cooking and everyday usage.
Will silicone melt in the oven?
Silicone is unlikely to melt in the oven as it has a melting point of around 260 C (500 F). Most baking recipes require temperatures of around 200 C (400 F) so there is no need to worry about the silicone melting.